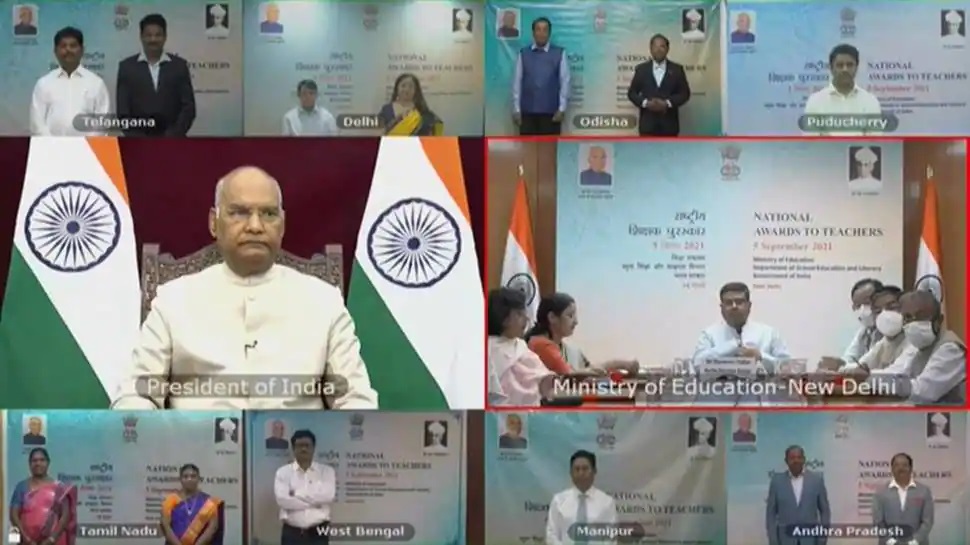 New Delhi: On the occasion of Teachers' Day, President of India Ram Nath Kovind on Sunday felicitated two teachers from Odisha with the prestigious National Teacher Award at a special function held on virtual platform.
The President has awarded 44 teachers across the country including two from Odisha. The two Odisha teachers are- Ashok Satpathy from Bhadrak district and Ajit Kumar Sethy from Ganjam district.
Satpathy is a teacher of Zilla Government School in Bhadrak district while Sethy is serving as a teacher in Government UP School, Kanamana, Chatrapur, in Ganjam district.
Stapathy has worked to motivate alumni of their schools to raise funds for the development of schools while Sethy was instrumental in helping students understand abstract concepts with the help of musical instruments.
With the funds, Satpathy built up the school infrastructure, new conference hall, computer labs and procured other ICT equipment. Expressing happiness for being felicitated with the prestigious awards, Setpathy said, after retirement he will also set up a trust to help such students.
The National Award is given to teachers as a mark of respect and to honour their contribution in improving learning outcomes and enriching the lives of students. The President congratulated all the teachers who received the award for their distinguished contributions
During his speech, Kovind noted that some teachers have developed remarkable infrastructure in schools with their hard work and dedication. He appreciated such dedicated teachers and expressed hope that the entire teacher community would keep on changing their teaching method according to the changing circumstances.
He said that such teachers strengthen his belief that the future generation is safe in the hands of our well-qualified teachers.
Kovind said that teachers have a very important place in everyone's life. People remember their teachers for life-long. Teachers who nurture their students with affection and devotion always get respect from their students.
The President urged the teachers to inspire and enable their students to envision a golden future and acquire aptitude to fulfill their aspirations. He said that it is the duty of teachers to inculcate interest in studies in their students.
The President said that for the last one and a half years, the whole world is going through a crisis caused by the Corona pandemic. In this situation, even when all the schools and colleges were closed, teachers did not allow the education of the children to stop. For this, the teachers learned to use digital platforms in a very short time and continued the education process, he said.
The Union Minister for Education, Dharmendra Pradhan delivered the welcome address while the Minister of State for Education, Annpurna Devi gave the Vote of Thanks.