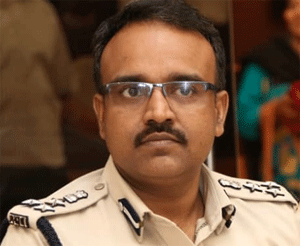 Cuttack: Ashish Kumar Singh, Commissioner State Excise is on overdrive to nab the culprits engaged in illegal liquor trade and thanks to the efforts of the Team Excise, on Monday they foiled the bid to smuggle gallons of illegal Indian Made Foreign Liquor (IMFL) in the style of super hit Telugu movie Pushpa.  
The Dhenkanal Excise Team today early morning seized the 12 wheeler truck (loaded with a container) bearing Regd. No. RJ 32 GA 8205 at Baunsaokhari under Hindol Police Station area of Dhenkanal district. The container was filled up with non duty paid IMFL.
Basing upon tip-up received from Directorate of Excise, Dhenkanal excise team was able to detect the illegal trade of liquor, which is first of its kind in Odisha Excise.
The container was sealed and the excise sleuth opened it by gas cutter. On search 1070 cases/ 9224.8 litres of non duty paid IMFL (Bacardi Black Rum- 344 Cases, Mcdowell No.01 Whisky-228 cases and Mcdowell No.01 Rum-498 cases for sale in Arunachal Pradesh only) was seized.
In this connection, the excise officials have arrested three accused persons identified as Abinash Maharana, Satish Nanda and Bijendra, the driver who belongs to Haryana.
On preliminary investigation, it is ascertained that the non-duty paid IMFL was coming from Arunachal Pradesh /Assam and going to Angul district. The value of seized property is approximately Rs 70 lakh in Odisha market.
The Excise department has been conducting sustained enforcement work and detected a number of excise & NDPS cases. The Excise Directorate continuously monitoring the enforcement activities of field officers, said an official.
During last 4 days (from February 25 to 28), the officer of Excise Department detected 605 cases, arrested 499 person with the seizure of 391 Litres Duplicate IMFL, 165 Litre Spirit, 632 Litre IMFL, 686 Litre Beers, 12432 Litre ID liquor, 119415 Kgs ID Wash ( basic Raw material for manufacture of Liquor ), 217 KGs ganja, 237 Litre Brown Sugar and 18 Nos. of Vehicles.
Among the major cases, the excise officials of Cuttack seized 188 grams of brown sugar at Khurda town on February 28, 2022.
Similarly, the EI & EB Unit Berhampur busted one duplicate IMFL Manufacturing unit at Jiniguda village in Berhampur with seizure of 214 litre duplicate IMFL, 165 litre spirit along with other raw materials & sealing machines on February 26.
The Berhampur district excise team detected one duplicate IMFL case at Dengapadar village in Berhampur with seizure of 95 litre duplicate IMFL with one vehicle and Bolangir excise team detected one duplicate IMFL case and seized 29 litre duplicate IMFL.
Besides, the Kandhamal Excise Team detected one NDPS (Ganja) case with seizure of 125 KGs Ganja and a Mahindra Bolero vehicle.