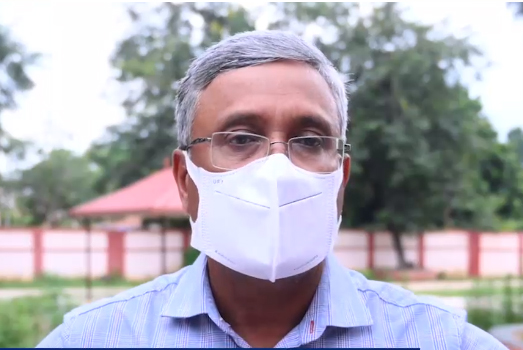 Jharsuguda: Principal Adviser to CM and Chairman Western Odisha Development Council Asit Tripathy reviewed implementation of the developmental programmes in Jharsuguda district, particularly the projects and schemes relating to industry and agricultural development.
Reviewing the progress made so far, Mr.Tripathy directed the district administration to promote downstream industries in aluminum and steel sector.  He also said, "The agro-climatic conditions of Jharsuguda is conducive for cash crops like ginger, chilly, millets, vegetables and fruits". He directed the district agriculture officer to prepare definite agricultural strategy paper in convergence with concerned departments for promotion of these non-paddy cash crops in the district.  
Further, Mr.Tripathy directed the district administration to develop industrial parks in collaboration with IDCO for establishment of small and medium downstream industries in the sectors of almunium, steel, food processing and agri-business. Creation of marketing infrastructure and market-linkages for agri-products was emphasized by him. The Collector was also asked to promote the small and medium units through handholding and facilitating supports. The district administration and the municipality authorities were advised to make a comprehensive land use plan for optimum utilization of the available Government land in BTM ground within Jharsuguda Municipality.
The industrial development in the district has opened new employment avenues. Mr.Tripathy directed the district administration for enabling the women and youth of the district to harness these new opportunities through skill development training in the trades having more demand.  
After the review meeting, he looked into field level implementation and functioning of different projects in Jharsuguda and Lakhanpur block. The projects like mega lift irrigation at Banjhibora, Water treatment plant at H. Katapali, G.L. High School transformation project under 5T in Belpahar municipality, fruit and flower cultivation farm developed by individual entrepreneur at Grindola and Rural self employment training institute at Belpahar were visited by Sri Tripathy.
Collector Saroj Kumar Samal accompanied by  Project Director, District Rural Development Agency Tairam Majhi, Sub-Collector Shiba Tappo along with district level officers from the departments of Industry, Agriculture and farmers' empowerment, Skill development and technical education, Panchyati Raj and drinking water presented necessary data about the projects in course of the field visit of Mr.Tripathy.