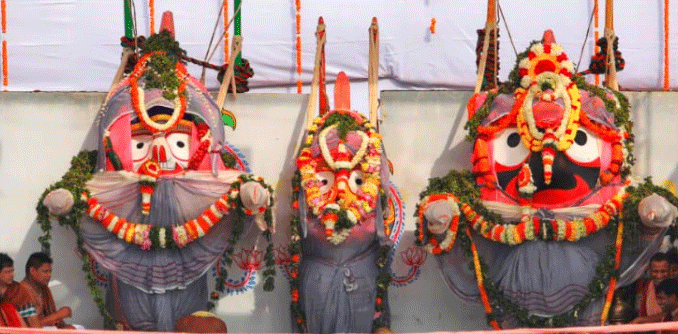 Puri: The famous annual bathing ritual (Snana Purnima) of Lord Jagannath and His siblings Lord Balabhadra and Devi Subhadra has begun at Shreemandir, Puri early morning today. Due to Covid-19 pandemic, the rituals are being conducted sans devotees.
All the three deities of Lord Balabhadra, Lord Jagannath, Devi Subhadra along with Lord Sudarsan have been ushered to the Snana Mandap inside the temple premises in ritualistic Goti Pahandi procession.
Starting from Mangalarpana, then Managala Alati, Tadapalagi Niti, Adharapocha, Abakasha, Surya Puja and Dwarapala Puja have been conducted.
Now, the most important Jala Lagi Niti is being conducted at the Mandap. Garabadu servitors placed 108 pitchers of aromatic water for use in the bath. 35 pots of water were used for bathing of Lord Jagannath, 33 for Balabhadra, 22 for Subhadra and 18 for Sudarshan. After the bath, again Mailum and Sarbang nitees will be performed and the Trinity were dressed in new cloths.
Following the bathing ritual, Chhera Panhara ritual will be done at Sanan Mandap. Puri King Gajapati Dibya Singh Deo will not perform the famous ritual of Chhera Panhara in the Mandapa due to Covid pandemic. King's representative the Mudirasta will execute the famous ritual in his place.
Last year also the Mudirasta had performed Chhera Panhara during Snana Purnima as the Gajapati could not be available for the service.
The deities will adorn Hati Besha in between 11AM to 12 PM, as per a belief that every Hindu religious rite begins with the worship of Lord Ganesh. Following some other rituals like Ghantachada Sakaladhupa, Hati Besha Maranama and Puspanjali, Bahuda Pahandi will be conducted of the Laords from 5PM to 8PM. Due to Covid-19, Sahanamela will not be conducted this year.
For the Sana Purnima, the Jagannath temple was illuminated last evening. Public movement is prohibited since 10 PM on Wednesday and will continue till 2 PM of 25 June.