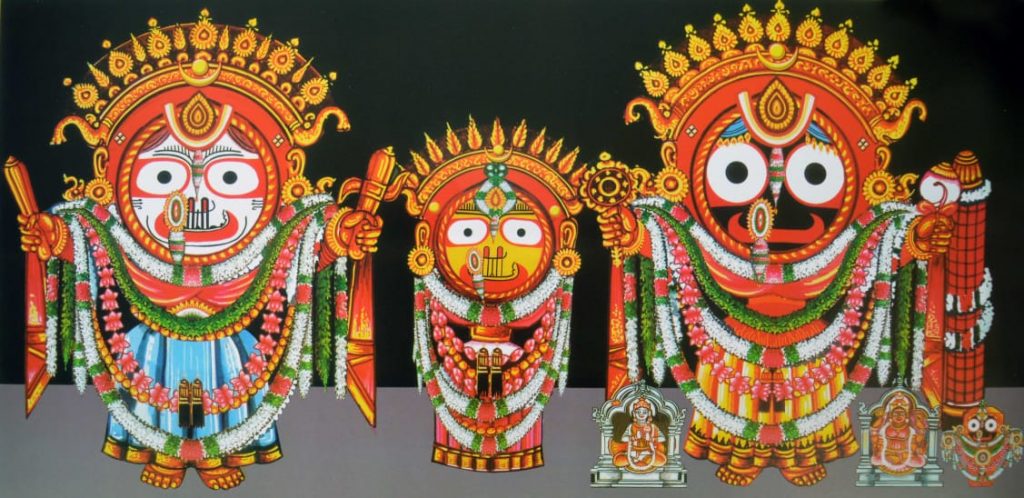 Puri: On the occasion of holy Kartika Purnima, Lord Jagannath and his siblings Lord Balabhadra and Devi Subhadra are adorned in Raj Rajeswar Besha in the Jagannath Temple here.
After performing Mangal Arati, Mailam, Tadap Lagi and Abakash rituals of the Trinity and offering Gopal Bhog, servitors started dressing the deities with huge gold ornaments and other valuable items. After completion of the dressing, all the Lords wore Raj Rajeswar Besha, which is similar to Suna Besha.
However, devotees are deprived from getting a glimpse of the Raj Rajeswar Besha as the temple administration has put restrictions due to the Covid-19 pandemic. As a huge number of devotees throng to the temple on this day, there is a chance of further spread of Covid-19. So the temple administration has taken the decision.    
Meanwhile, hundreds of devotees observing Kartik Brata stood in a long queue to have darshan of the Patitapaban image of Lord Jagannath. The devotees offered prayer to the Lords before the Singhadwar.
The devotees could not take holy dip in Panch Tirtha (five sacred ponds) on the occasion as the administration had imposed a ban on bathing in water bodies due to the prevailing coronavirus situation. However, the devotees saw floating boats (Boita) at Mahodadhi (sea beach).
To control the crowd, 20 platoons of police force were deployed at all major points in the holy town to prevent gathering of devotees.
This Raj Rajeswar Besha is observed on Kartik Purnima in each year. This Besha is like Suna Besha on the Chariot in front of Lions gate of Sri Mandir. This Besha is mostly liked by the local kings of Odisha and they used to donate different golden ornaments bejeweled with valuable stones. The deities are decorated with 23 types of golden ornaments.
It is identical to the deities' Suna Besha during the annual 'Ratha Jatra'. The deities, among others, will be adorned with giant feet, hands, huge crown, chest guards, garlands, conch, lotus, besides weapons like Chakra, all made in pure gold, weighing over 200 kg.