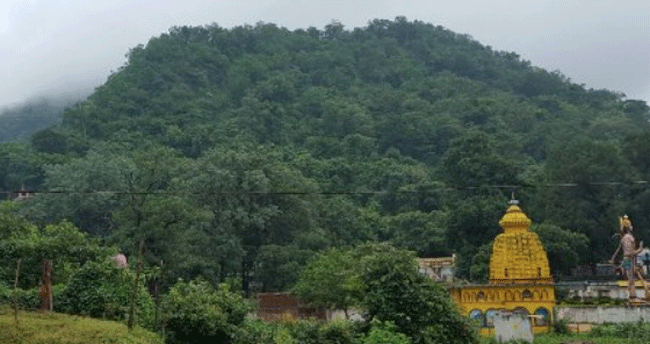 Padampur: Located in the foot hills of the historic Gandhamardan Hill Range, the heavily forested rural constituency of Padampur in Odisha's Bargarh district, is noisy again after 35 years since the 80s "BALCO Hatao" agitation.

Inhabited by poor but determined tribals, dalits, weavers and farmers, Padampur known for its natural beauties like hills, mountains, natural springs and medicinal herbs all across, is now in the focus of the entire Odisha as the ongoing by-election here would indicate the fate of two major political parties like Governing Biju Janata Dal headed by Chief Minister Naveen Patnaik and BJP led by Prime Minister Narendra Modi.
The December 5 Padampur by-poll is politically considered as "semi-final" before the 2024 General elections for Lok Sabha and Odisha Assembly. This particular by-election is very important for the Naveen Patnaik's BJD as the ruling party recently lost a by-poll in coastal Dhamnagar segment. The regional party lost any by-poll at Dhamnagar since 2009 and therefore the party can afford another defeat before the general elections. It is a do or die situation for the BJD.

The determination of the people of this area has been established as they successfully saved Gandhamardan Hills in 1980 when the then Congress Chief Minister JB Patnaik allotted 'Patta" to BALCO through a 47-year lease to explore bauxite from the Gandhamardan hill that bears both historical and mythological importance. The local people ensure that the Gandhamardan bio-diversity is protected by foiling the move through a massive agitation. They claimed that mining activities would destroy the medicinal plants.

Now, after 35 years, the same people, mostly farmers who constitute 82 per cent of the constituency's population, are demanding district status for Padampur and also agitating over agrarian issues like delay in payment of crop insurance claims under Pradhan Mantri Fasal Bima Yojana, input subsidy for drought affected farmers and proper MSP on paddy. Two parallel agitations for a new district and farmers issues have so far yielded results when the Centre released crop insurance claims and chief minister Naveen Patnaik announcing Rs 200 crore input subsidy for drought affected areas.

Apart from Padampur NAC, this rural constituency comprises three blocks like Padampur, Paikmal and Jharabandha. All the three blocks are prone to drought as there is hardly any irrigation facility in the area. Though the BJD government had announced to ensure 35 per cent of the cultivable land to be irrigated by 2010, nothing of sorts happened here, said veteran Congress leader Narasingha Mishra blaming the state government for the miseries of farmers. As the area is drought prone and people have no other alternative than cultivation, above 25,000 youths of area are migrant labours and all parties have been trying to rope in on these people before the December 5 voting.

Interestingly, a product of agitation and a member of the Gandhamardan Surakshya Yuva (GSYP), Paikmal, Pradip Purohit is the BJP nominee in the by-poll giving a strong challenge to the ruling BJD candidate Barsha Singh Bariha, the daughter of late Bijay Ranjan Singh Bariha, whose death necessitated a by-poll in Padampur.

Though the battle for Padampur is mostly between the BJD and the BJP, Congress is certainly a factor and its candidate and three time MLA Satya Bhusan Sahu has his own support base other than the traditional Congress voters. Though Congress's vote bank has been disturbed for the party remaining away from power since 22 years, Shri Sahu has his personal link with local people and therefore a major factor in the ongoing elections.

While Barsha Singh Bariha is new to politics, she has a legacy behind as her father Bijay Ranjan Singh Bariha was elected to Assembly from Padampur five times and her grandfather Bir Bikramaditya Singh Bariha thrice. The Singh Barihas belonged to the local landlord family and therefore, Barsha has an additional edge over her rivals as also hailed form Binjhar tribal community. BJD president Naveen Patnaik before announcing name of Barsha had consulted the heads of Binjhal community who assured the chief minister that they would support late Bijay Ranjan Singh Bariha's wife or daughter.

Tribal voter percentage in Padampur was around 29 per cent of the total 2,57,474 electors. Three communities like Binjhal, Sohra and Gond were dominant among the tribals. While BJD leader Barsha's father belonged to Binjhal community, her mother comes from Sohra tribes. The Gonds, however, remain as traditional voters of Congress.

Keeping in view the tribal dominancy in Padampur, both the BJD and the BJP have engaged their tribals in campaigning. BJD leaders like Manohar Randhari, Ramesh Chandra Majhi, Pradip Majhi and other Odisha based tribal faces were campaigning for Barsha, while BJP in an attempt to get share from adivasi votes deployed its tribal leaders like Union Ministers Bisheswar Tudu, Arjun Munda, MP Jual Oram and former Chief Minister Giridhar Gamang as the saffron party's star campaigner in Padampur.

Congress's lone MP Saptagiri Ulaka, former MP Sushila Tiria, ex-MLA Dasarathi Gamang and MLA CS Rajan Ekka have been campaigning for Satya Bhusan Sahu. Today PCC Chief Sarat Pattnayak, AICC In Charge A Chella Kumar, Ex-Chief PCC, Niranjan Patnaik and Jaydev Jena seen campaigning for Shri Sahu.

There are 10 candidates in fray for the Padampur by-poll which is contested mostly over three major issues like separate district status, farmers problems including kendu leaf pluckers wage, migration and also the proposed new Bargarh-Nuapada via Padampur rail line. Both the BJD and BJP are at the logger heads with each other and blame each other on the three above issues.

The two Union Ministers- Narendra Singh Tomar and Ashwini Vaishnaw, who campaigned in the constituency, accused the 22 year old BJD government of misleading the people in crop insurance, drought input subsidy and a railway line in Padampur. Union Minister Dharmendra Pradhan joined the Campaign and directly charged CM Naveen Patnaik for his faliure in governance.

As the opposition made migration as major political issues, BJD Vice-President Debi Prasad Mishra claimed that the local youths have mastered in making bricks and therefore migrate to other place to work in brick kilns. But. there are alternatives and opportunities for them, he said.

However, a visit to Motipali village reveals the truth. Three families of the village have locked their houses and left the place along with families in search of work in other states, said Kandarpa Gochha, a local resident.