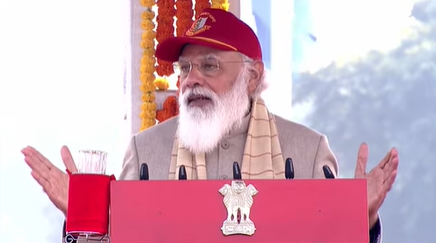 New Delhi: Prime Minister Narendra Modi exhorted bravery of the security forces that broke the back of Naxalism and Maoism which was affecting a large part of our country. 
PM said now menace of Naxalism has been shrunk to a very limited area of the country and affected youths have left the path of violence to join the development mainstream.
Mr.Modi addressed the rally of the National Cadet Corps (NCC) at Cariappa Ground in Delhi today. Union Defence Minister, Chief of Defence Staff and the three-armed services Chiefs were present on the occasion.
He informed that about 1 lakh cadets are being trained by Army, Air force and Navy for this. One third of them are girl cadets.
Training infrastructure for NCC is being strengthened. As against just one firing simulator earlier, 98 are being established now.
Micro flight simulators are also being increased from 5 to 44 and rowing simulators from 11 to 60.
He said new opportunities for girl cadets are emerging in the armed forces. He noted with satisfaction that in recent times, there has been an increase of 35 percent in the number of girl cadets in NCC.
The Prime Minister also paid tribute to the armed forces on 50 years of the victory in Bangladesh War of 1971.
The Prime Minister also asked the cadets to visit the National War Memorial and also asked them to get associated with the revamped gallantry award portal.
He also noted the NCC digital platform which is fast emerging as the platform for sharing of ideas.
The Prime Minister, elaborated India's capabilities of meeting the virus challenge as well challenges of the country's defence. He asserted that the country has the one of the best war machine in the world.
He mentioned that recent mid-air refueling of new Rafale Aircrafts with the help of UAE, Saudi Arabia and Greece reflect the strengthening of ties with Gulf countries.
Similarly, India has decided to manufacture more than 100 defence related equipment in India.
This and Air Force's order of 80 Tejas fighter planes, enhanced focus on artificial Intelligence related warfare will ensure that India emerges as major producer rather than a market of defence equipment.