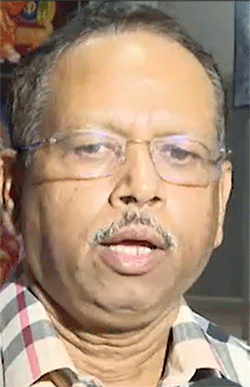 Bhubaneswar: After compiling detailed death figures of different hospitals and districts, the final death toll in the Bahanaga train tragedy stood at 288, Chief Secretary Pradeep Kumar Jena said here on Tuesday.
Speaking to reporters, Shri Jena said, "We have asked the Balasore Collector to compile the details of bodies recovered from the tracks, who died in the hospitals and the storage houses. After compiling all, the Collector today informed us that the final death toll is 288."
Death reports have been collected from the districts of Balasore, Bhadrak, Jajpur Cuttack, Khurda (Bhubaneswar). Besides, combing was undertaken on 200 feet of both sides of the tracks along the accident site. After that, the final death toll was revised to 288, CS Shri Jena said.
Out of 288 bodies, 193 bodies have been brought to Bhubaneswar through 96 ambulances while 94 bodies have been handed over to the next of kin after proper identification in Balasore itself, he said.
Similarly, Shri Jena said, another person who was succumbed to his injuries in Bhadrak hospital has also been handed to his family members at the hospital.
Of the 193 bodies brought to Bhubaneswar, 110 have been identified and handed over to the next of kin so far, he informed.
The Chief Secretary said, a total of 205 bodies were identified and handed over till now while the remaining 83 bodies are under the process of identification.
As the bodies are in very bad shape, people are facing difficulty in identifying the bodies. So, body embalming and DNA sampling is being carried out in AIIMS Bhubaneswar so that the family members can get bodies of their loved ones, he added.
The state government is providing all kinds of support including free transportation to the victims and their relatives and the expenditure is met from the Chief Minister's Relief Fund (CMRF), Shri Jena said.
Out of the total deaths, 39 persons have been found to be from Odisha. The Chief Minister has sanctioned Rs 1.95 crore ex-gratia to the next of kin of the deceased persons; Chief Minister's Office (CMO) said.
The CMO said 8 people from Bhadrak district, 2 from Jajpur, 14 from Balasore, 9 from Mayurbhanj, 2 from Khurda, 3 from Cuttack and one person from Keonjhar were killed in the accident. The government has provided Rs 5 lakh ex-gratia from CMRF to the family members of each deceased person.
Meanwhile, the Central Bureau of Investigation (CBI) registered a case on Tuesday in connection with the train mishap, after receiving consent from the Odisha government.
The case has been registered on the request of the Ministry of Railways, consent of the Odisha Government, and further orders from the Department of Personnel and Training (DoPT), after the train accident involving Coromandel Express, Yesvantpur-Howrah Express and a goods train at Bahanaga Bazar on June 2, 2023, the CBI informed.