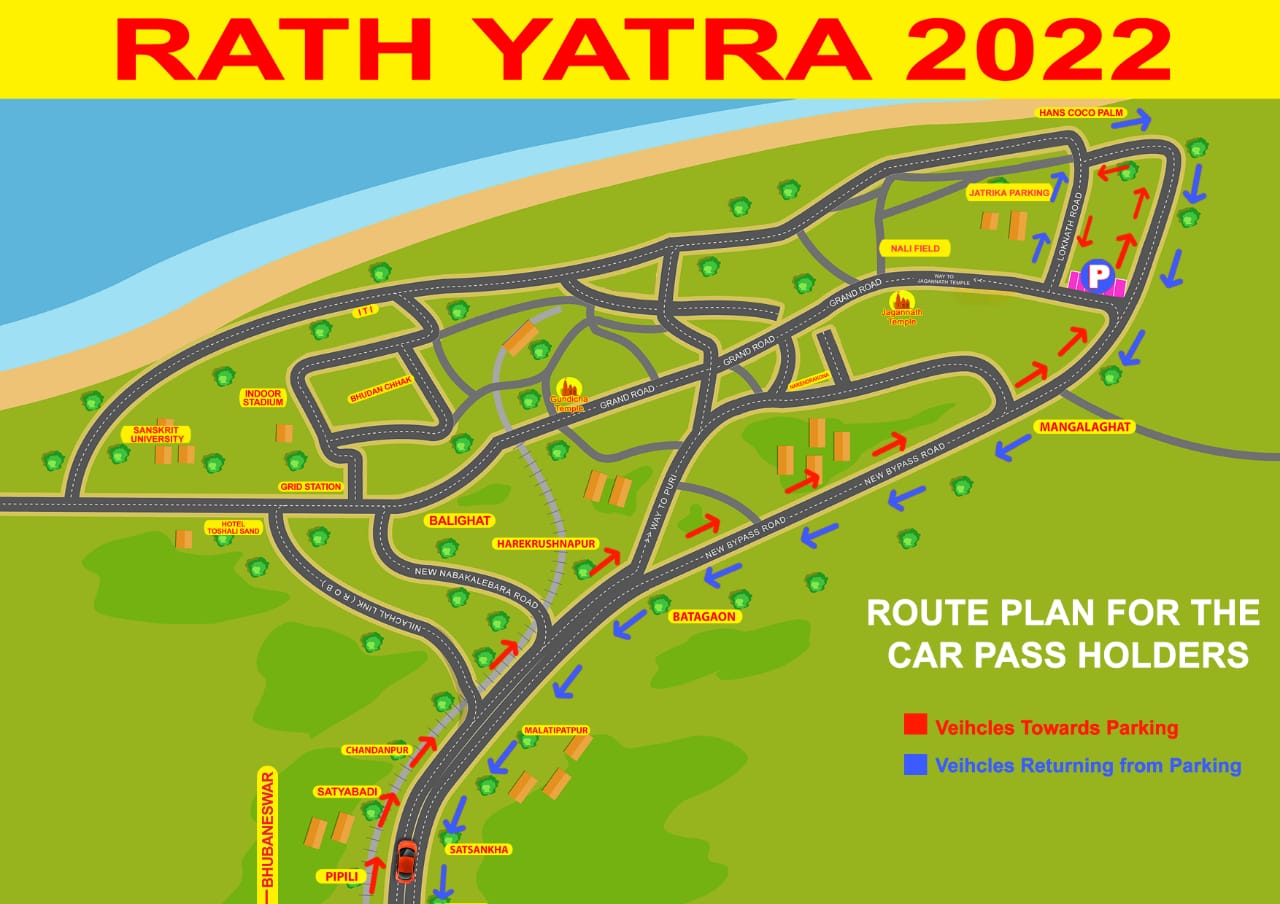 Puri: Odisha Police has made elaborate arrangements for smooth flow of traffic to and from Puri during Rath Jatra to begin tomorrow.
Amitabh Thakur, IGP said that all inter-state tourist buses from Bhubaneswar side will be allowed to Puri up to Malatipatapur and will park at Malatipatpur, New Bus stand. The return will be on the same route, said a senior police official here on Thursday.
Mr.Thakur said that all light vehicle (three/four wheelers) which will came from Bhubaneswar side on NH-316 will be allowed to reach the parking place at Talabania via Malatipatapur, railway over bridge (ROB) at Toshali Chowk Grid Station Bhudan. Their return route is via ITI crossing Central School Grid Station Balighat, Gopalpur Crossing, Samangara, Biraharekrushnapur and Malatipatapur.
IGP Mr.Thakur informed that similarly, the light vehicle with car pass from Bhubaneswar side will be allowed to proceed to the specified parking place i.e at Chhapan Chhack/towards Lokanath temple via Batagaon, Mangalahat, Sterlin Chhack, Hans Cocopalm. Their return to Bhubaneswar will be on the same route.
As a large number of people are likely to visit Puri through two-wheelers, parking arrangements have been made at several places across the pilgrim town, said he.
Mr.Thakur said that the two wheelers from Bhubaneswar side will park at specified parking place at Jagannath Ballava, Masanichandi Chowk and on Estern flank of Mangalahat Chhack (Krusaka Bazar). Exit route of the two wheelers from Jagannath Ballav will be via Jatiababa Chwok -Kumbharapada-Atharana-Charinala-Malatipatapur.
The motorcycles from Brahmagiri side will also park at Jagannath Ballav via Masanichandi Chwok. Their return will be in the same route.
Further, the two wheelers from Konark side will park at Blue Flag beach via Grid Station, ITI,CT Road & Subhash Boss Chhack and the return will be in the same way.
The auto rickshaws will move from Talabania to Ram Mandir Chowk via Sadar Block, Odisha Bakery, Ram Mandir. Return will be via Srikhetra Colony road. The three wheeler from Brahmagiri side will be allowed up to Flourish India and will park there. The return will be on the same route.
All the light vehicles coming from Konark side will be allowed to Puri, Talabania via Grid Station, Bhudan ITI and their return will be via ITI crossing Central school, Bhudan, Grid Station and Toshali.