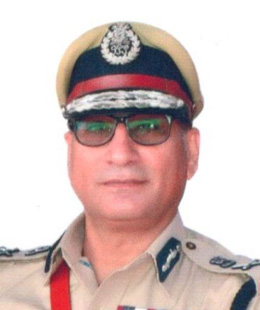 Bhubaneswar: Director General Prisons and Correctional Services, Manoj Chabra has proposed to the State Government to allow the Directorate of Prisons to fit GPS-enabled tracking devices on the ankles of under-trial prisoners (UTPs) and free them of the four walls of prisons.
Shri Chhabra said if the proposal is accepted and implemented, Odisha will be the first state in the country to free UTPs involved in non-heinous crimes.
While overcrowding was the biggest problem in jails across the country including Odisha, DG Prisons said about 80 per cent of prison inmates were UTPs. Many of them were lodged in jails even though they were caught in offences having provision of less than seven years imprisonment.
According to the Directorate of Prisons' proposal to the State Government, GPS-enabled tracking devices will be fitted on the ankles of UTPs facing non-heinous charges for crimes carrying a maximum imprisonment of seven years to reduce prison overcrowding.
DG Prisons said this will be voluntary and the UTPs will have the option to wear the devices or stay in jails.
Shri Chabra said police and prison authorities will be able to track any UTP with help of the device, adding that If any UTP tries to damage the tracker, the local police station will get an alert and act immediately.
DG Prisons also said there are a few factors behind such a move. "While chances of escape are there, a UTP may also commit crime while outside the jail. This apart, the UTP may threaten witnesses or attempt to tamper evidence. In all such cases, police can nab them and put them in jail," DG pointed out.
Asked whether the move would violate human rights of a person, Shri Chabra said, "I think human rights activists will support our effort as the UTPs will remain free and not within four walls. However, they will have to wear the device on the ankle area which can be covered by a trouser."
Stating that the practice is prevalent in about 30 countries including parts of USA and the UK, DG Prisons said that State Prisons Directorate have proposed introduction of the technology and it is under consideration.
Though the price of the device is not known since they are not manufactured in India, Shri Chabra said the cost should be much less than the government's expenditure made on each UTP in jails. "Around Rs 1 lakh is spent on each UTP inside the jail every year. A tracker device must be much less than Rs 1 lakh," he said.
DG Prisons also pointed out that the Supreme Court had earlier advised states not to keep offenders in jails for crimes carrying a maximum imprisonment of seven years.
DG Prisons is hopeful that if the new system becomes successful, it will go a long way in solving jail congestion problems across India. The Directorate may go for pilot project first if the government allows such a move, said Shri Chabra.