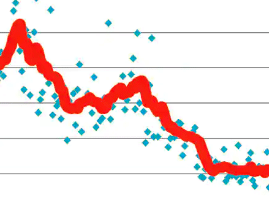 Bhubaneswar: With effective Containment Strategy the Test Positivity Rate (TPR) in the State has been reduced to 3 per cent this week from the 24 per cent in the first Week of May.
The State Government is moving from a general lock down to micro containment zones, where clustering of cases is found, said senior officials of the Department of Health & Family Welfare.
With decline in TPR, State Government is lifting the lock down in phases in districts with low positivity rate, they said.
At present four districts- Puri, Nayagarh, Khordha and Cuttack– are having above 5 per cent TPR, while 17 are having TPR below 2 per cent.
While the State Government is implementing Test-Track-Treat Strategy for containment of Covid Pandemic, testing level has been increased from an average of 25,000 tests Per Day in March to 75,000 tests Per Day in July.
Nearly 35 per cent tests are RTPCR and 65 per cent Antigen Tests. In order to facilitate more and more tests, RTPCR laboratories have been decentralized and there are 33 RTPCR Laboratories in 19 Districts.
The State Government has decided to expand it for all the 30 districts till 15 August, officials said adding that emphasis is given on Appropriate Covid Behaviour (ACB) and enforcement is done in an organized manner.
In order to ensure early detection and isolation of positive cases, a State Wide three month door-to door campaign was launched on May 24 and during the first month of the campaign, over 94.5 lakh households , which constitute 99.60 per cent, have been visited twice by field health teams.
About 1.15 Lakh Covid-19 positive cases have been identified through active surveillance and facilitation by ASHA and AWWs. Over 75,000 persons with co-morbid conditions like hypertension, Diabetes, TB and Kidney Disease and Cancer have been identified and put on treatment during the last one month of campaign.
So far the case fatality ratio (CFR) is concerned, Odisha is one of the lowest.
0.51 Percent in the country and is maintained across the period of Pandemic.
For enhancing Oxygen production apart from 39 PSA Plants, 28 PSA Plants and 44 Liquid Medical Oxygen (LMO) Plants are set up by the State Government.
For which the State never faced dearth of Medical Oxygen and in an average 200-250 Metric Ton Medical Oxygen were produced per day as against requirement of 50 MT Medical Oxygen in the State.
However, the State has been able to support 19 States by supplying 32,000 MT of Medical Oxygen in a time bound manner. Officials say.
Odisha Drug Logistics Management has been rated as one of the best by Ministry of Health & Family Welfare (MoHFW).
This is because all essential drungs like Favipiravir, Remdesivir, Tocilizumab, Amphotericin, B Posaconazole etc are adequately available and there was no dearth of drugs, logistics and consumables at any point of time.
Odisha strategically decided to have dedicated Covid Health Infrastructure across the State so that Covid treatment can be taken care of. Currently 87.5 Percent of General Beds and 64.4 Percent of ICU and HDU are in surplus against the demand.
So State is in all readiness for any upsurge of cases in form of Third Wave, said an official.