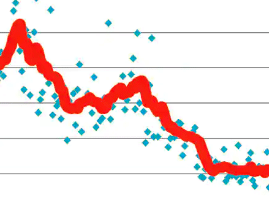 Bhubaneswar : The Test Positivity Rate (TPR), which is considered to be one of the most important factors in COVID-19 management, has been coming down in the state during the past few days.
The daily COVID-19 TPR has come down to below 10 per cent on Sunday. The TPR was 21.15 per cent on 22 May, which came down to 11.26 per cent on 4 June and 10.51 per cent on Saturday.
About 27 to 29 districts were reporting a test positivity rate of above 10 per cent during many days of May, especially in the second half. But, now, it has been reduced to 19 districts.
As per data available with the Government, 19 districts of Odisha have recorded a TPR of above 10 per cent the past week (May 30 to June 5) while nine other districts recorded a TPR of 5 to 10 per cent. Similarly, the remaining two districts—Kandhamal and Bolangir have recorded below 5 per cent TPR during the week.
The districts with above 10 per cent test positivity rate are—Bhadrak, Dhenkanal, Jajpur, Khurda, Balasore, Puri, Cuttack, Mayurbhanj, Boudh, Jagatsinghpur, Nayagarh, Angul, Jharsuguda, Rayagada, Nabarangpur, Sundergarh, Kendrapara, Koraput and Nuapada.
The districts reported a TPR of 5 to 10 per cent are—Deogarh, Malkangiri, Kalahandi, Keonjhar, Bargarh, Ganjam, Sonepur, Sambalpur and Gajapati.
With the decline in daily COVID-19 cases, the number of districts under red zone (having active cases above 2501) has also come down to 12 from 25 reported three days back.
The number of districts in green zone (with active cases below 1000) has also gone up in the State. On 8 May, not a single district of Odisha was in the green zone. Now, eight districts are under this category. The districts are—Jharsuguda, Deogarh, Nuapada, Bolangir, Kandhamal, Ganjam, Rayagada and Malkangiri.
Director of Health Services Dr.Bijay Mohapatra said that the present TPR of the COVID-19 Pandemic is hovering around 10 percent and it is likely to dip in coming days.
"The TPR in the state, which was 10.51 per cent on Saturday, is expected to drop further by next week. If this trend continues, lockdown restrictions can be relaxed in a phased manner," Dr.Mohapatra said.
Speaking at the COVID-19 Vaccination Advisory Committee a few days back, Chief Minister Naveen Patnaik had said that the current trend of the Covid cases is on decline across the state except for a few districts.
"The second wave is beginning to recede, he hoped. We are focusing on vaccination and intend to utilise all resources to quickly vaccinate our people," he had stated.
On Sunday, the State reported 7,002 new cases taking the positive tally to 8,13,096 in the state. On the other hand, 42 more patients undergoing treatment for COVID-19 succumbed in the last 24 hours pushing the death toll to 2,994 in the State.