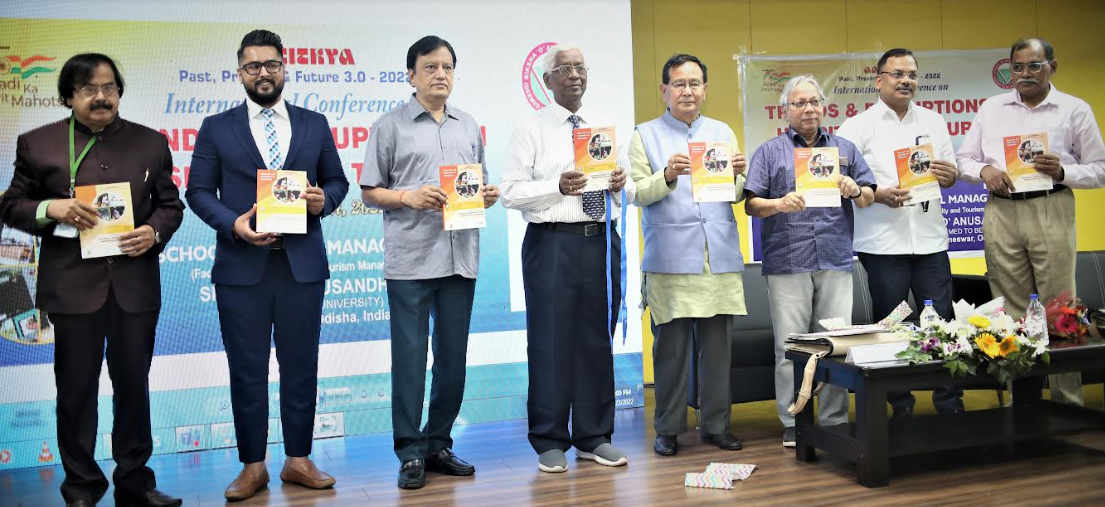 Bhubaneswar: The Covid-19 pandemic having inflicted enormous damage to the global tourism industry, the need of the hour is to adopt transformative strategies, seek new technological options and disruptive initiations to put the travel trade back on the road to recovery, Union Minister of State for Education and External Affairs, Dr. Rajkumar Ranjan Singh said on Friday.
"As Covid-19 swept the continents, humanity was virtually fighting a world war to save itself and the leisure industry indicated a steep decline amounting to 2.86 trillion US dollars which quantified more than 50 per cent revenue loss," Dr. Singh said while inaugurating a two-day International Conference on 'Trends and Disruptions in Hospitality and Tourism' at Siksha 'O' Anusandhan (SOA).
The need was to explore the potential of new avenues in hospitality and tourism sector for reaching out to the customers, he said.
Dr. Singh said religious tourism could be used to strengthen India's tourism outreach specifically in the South-east Asia region comprising countries like Thailand, Myanmar, Bhutan and Sri Lanka with sizeable Buddhist population. India's relationship with the Bay of Bengal Initiative for Multi-Sectoral Technical and Economic Cooperation (BIMSTEC) and Association of South East Asian Nations (ASEAN) countries, which had immense strategic and economic significance, could be leveraged to revive tourism, he said.
The conference, 'Aatithya- Past, Present and Future 3.0',was organised by the School of Hotel Management (SHM), SOA's faculty of hospitality and tourism management. SOA Chancellor Prof. D.P.Ray presided over the inaugural program which was also addressed by Mr. Hara Prasad Das, eminent poet, essayist and columnist, Prof. S.S.Mantha, former Chairman of All India Council for Technical Education (AICTE) and Chancellor of K.L. University, Andhra Pradesh, Mr. Nitin Bhalla, Founder and CEO of Kregzo, Delaware, USA and Dr. Tapan Kumar Panda, Director and Professor at Narsee Monjee Institute of Management Studies, Hyderabad.
Pointing out that BIMSTEC and ASEAN nations had deep connection with Buddhism, Dr. Singh said Buddhist tourist circuits in India could provide an impetus to tourism as people in those countries were keen to visit those places.
The Minister said innovations often came to the fore in response to a problem or need. "Tourism is one of the sectors with such innovation and growth potential," he said adding "disruptive innovation is a potent weapon in the industry's inventory allowing professionals to thrive in both ordinary and unusual circumstances."
Mr. Das, who focused his speech on the hospitality industry, said the travel and leisure sector should ponder as to what they should do to grab the attention of tourists.
"The element of surprise for the tourist has gone out of the travel industry as a result of the expansion of the information highway. Now the time has come to understand the tourist was no longer interested in getting showered with rose petals on arrival. The traveler is looking for intellectual content in what you offer," he said.
A former civil servant who had served various UN bodies as an expert, Mr. Das said the colonial style of hotel and tourism management should end and it should be understood that the tourist need not be treated like a king. All he needs is good food, good hygiene and things to hold his interest, he said.
"There are no good coffee table books on subjects like history, temples, relics, tradition, wildlife, folk art and other topics of interest in Odisha which could be made available in the hotel rooms. There is need for such classy books with the global tourist in mind. Universities like SOA could do it," he said.
Prof. Mantha said Artificial Intelligence (AI) could bring in rapid change in the tourism industry. Disruptions replace the existing market and create new opportunities, he said adding digital transformation would happen in all spheres.
Prof. Sitikantha Mishra, Advisor and Dean of SHM, welcomed the guests while Prof. B.B.Pradhan, Pro-Vice Chancellor and Registrar of SOA introduced the theme of the conference.