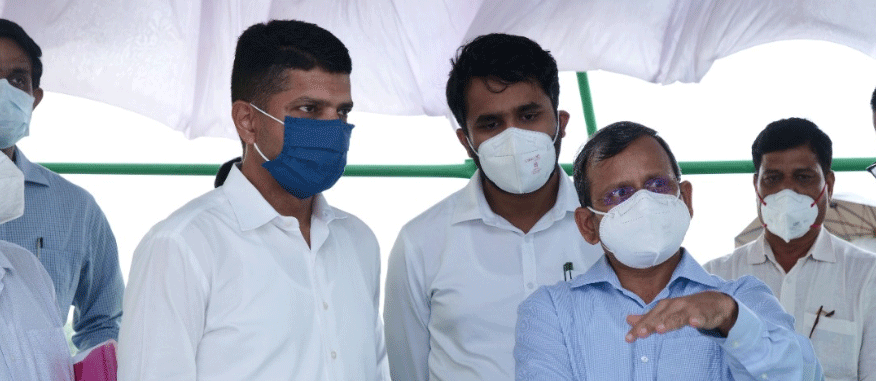 Koraput: Chief Secretary Suresh Mohapatra and Secretary 5-T VK Pandian along with senior officials, visited Koraput and the Nabarangpur districts Wednesday to review the preparation for possible Covid III Wave.
The Top officials also reviewed the progress of various development projects in the district with focus on health, education and irrigation during their visit.
The Collectors of both the districts briefed on the Covid situation and preparation for the Covid third wave.
The PSA and liquid medical oxygen plant projects being constructed in the districts were reviewed and the Chief Secretary issued instruction to complete those before August.
The officials visited the construction site of the 650-bed Hospital in SLN Medical College and Hospital Koraput.
The 5-T Secretary suggested that patient amenities should get priority and facilities like attendant sheds, food courts, proper traffic flows, parking etc should be ensured.
The project is targeted to completed before end-2023.
The team also visited the District Head quarter hospital in Nabarangpur and inspected the construction site for the 200-bed building. The engineers were asked to ensure quality in construction and timely completion by September.
The proposed Mega Lift irrigation project with underground pipeline system on Indravati was also reviewed during the visit.
This project will irrigate 22,000 ha in Nabarangpur, Nandahandi and Tentulikhunti blocks. The Turi-Guntat irrigation project was also reviewed.
It will irrigate 9135 ha in Nabarangpur and Kosagumuda blocks. The department was directed to prepare the DPRs for both the projects on topmost priority.
These projects will boost the irrigation in the district.
The team visited the construction site of low height storage structure across river Indrāvati at Bangalaguda (531 Ha) and mega lift irrigation project at Daibhata (999 ha) in Nabarangpur.
As part of the high school transformation programme under 5T initiative, many high schools have been taken up with active participation of the alumni, teachers, parents and students.
The officials visited RCD Government Nodal High School, Nabarangpur and Government Girls High School Koraput. Chief Secretary and Secretary(5-T) interacted with the Teachers, alumni and students.
They went round the smart classrooms, library, dining hall, ICT Labs playground, toilets etc constructed under the initiative.
Mr.Mahapatra reviewed the air strip work at Jeypore.
The upgradation projects includes the expansion of the runway and terminal building.
He said that the commercial flights to Jeypore are expected to be started soon.
Principal secretary Water Resources Anu Garg, MD NHM Shalini Pandit, Special Secretary to CM Vineel Krishna, DIG SWR, Collector and SP Nabarangpur, Collector and SP Koraput and other senior officials were present during the visit.