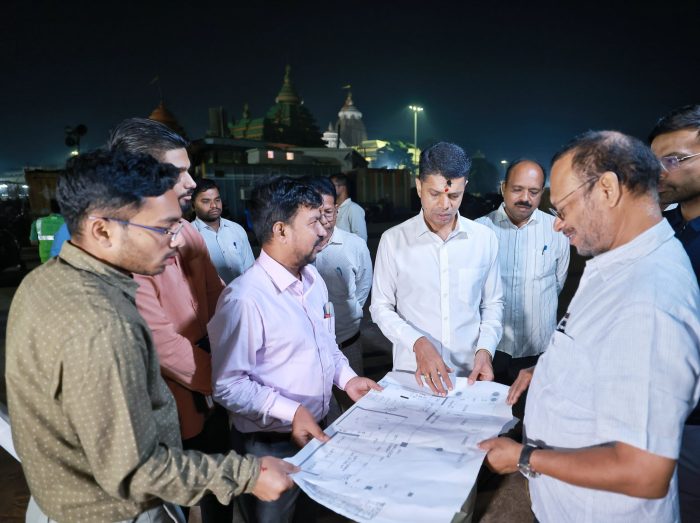 Puri: Newly appointed Chairman of 5T (technology-led transformative initiatives) V K Pandian on Saturday began his official work with review of Lord Jagannath's Srimandir Corridor project work.
Shri Pandian, who took voluntary retirement from the IAS on October 23, was appointed as the Chairman of 5T and 'Nabin Odisha' (scheme to improve rural infrastructure) with the status of a Cabinet Minister on October 24.
He visited Puri and reviewed the corridor project on Saturday early morning from 4 AM to 6 AM. Puri District Collector Samarth Verma, Odisha Bridge Construction Corporation Managing Director, J K Das and officials of various executive agencies attended the review meeting.
During the review, Pandian directs officials to complete the Srimandir Corridor project by December 15 next.  He said it would give a new feeling to devotees in the new year.
He also asked the officials concerned to speed up the restoration work of various mutts in the pilgrim town, and suggested planting trees and shrubs mentioned in various scriptures.
During the discussion with the officials, Shri Pandian stressed the transfer of various utilities close to the Meghanad Pacheri and completing the electrification work of the corridor project on time.
The 5T Chairman appealed to all to cooperate for early completion of the corridor project so that devotees have a better experience.
Under the corridor project, facilities like toilets, cloakrooms, parking space, ATMs, police assistance centres, reception centres and other essential amenities will be available.
The Nabin Odisha Chairman also advised engaging more people for the timely completion of Jaganath Ballav parking, the development of various projects being undertaken for providing facilities to visitors, the amusement park, and Sri Kshetra Setu.
Chief Minister Naveen Patnaik had in 2021 laid the foundation for the Rs 331.28-crore heritage corridor project.