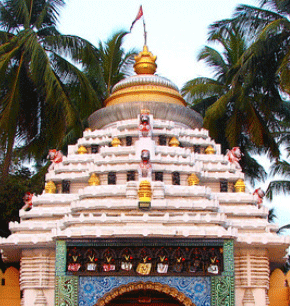 Puri: Cracks developed in the pillars and beams of Natamandap of Shree Gundicha temple will be repaired and completed by February next, Puri King Gajapati Dibya Singh Deb said here on Tuesday.
Shri Deb along with the members of Technical Committee and Managing Committee of Sri Jagannath Temple visited the Gundicha temple here to assess the extent of damages to the Natamandap.
Speaking to media persons after the visit, Puri King said, "Repair work is in progress. We are hopeful the project will be completed by the end of February."
The bud capital that takes up the entire burden of the temple roof and four columns are in bad shape because the wrought iron beam installed in the bud capital has got swollen. That's why cracks have been developed, he said.
He said the technical team will reinforce the pillars and beams with stainless steel beams to secure the Natamandap.
The technical team comprising SK Bhattacharjee, the former DG of ASI, Engineer Bindheswar Patra and NC Pal will conduct the repairs under the direction of Sri Jagannath Temple Administration, he said.
Shree Gundicha Temple which remained closed for devotees for the last three years due to the Covid pandemic and security reasons except during Rath yatra will be opened for devotees after the repairs, Deb said.
This apart, the periphery development and beautification plan for Gundicha temple prepared by Lotus studio, a Delhi-based company that has developed many heritage and historical sites of the country, has been approved by the Sri Jagannath Temple Managing Body. Under this plan beautification work around the Gundicha temple on five acres of land will be taken up.
Earlier, on October 29, the technical team inspected the Shree Gundicha temple and reported that the condition of Natamandap was critical. The team had suggested urgent repairs. The sanctum sanctorum of the Shree Gundicha Temple was last repaired in 1994.