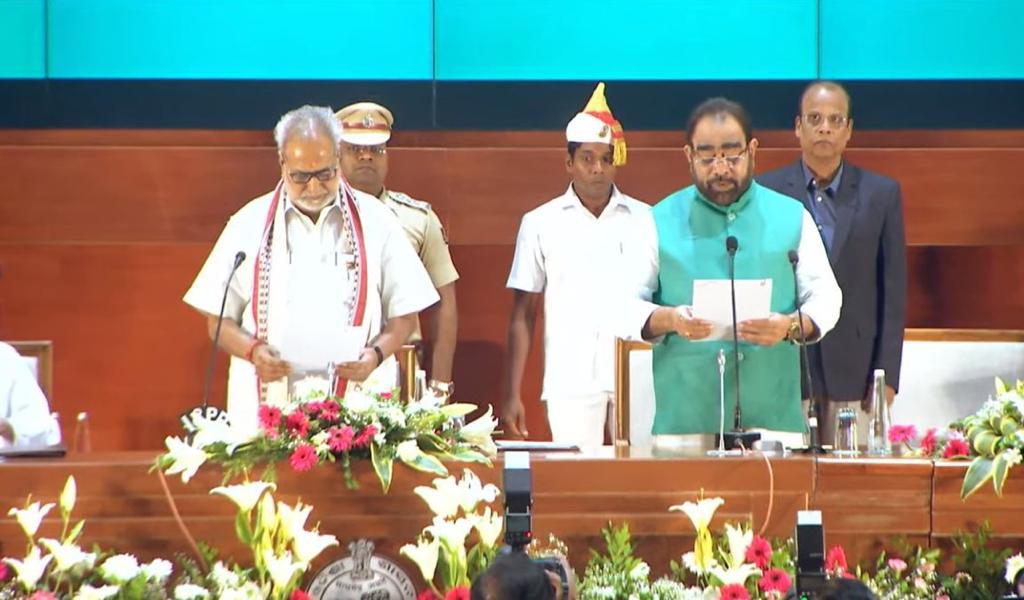 Bhubaneswar: Senior BJD Lawmakers Bikram Keshari Arukha, Sudam Marndi and Sarada Prasad Nayak on Monday took oath as Cabinet Ministers here at a Swearing-in Ceremony.
Governor Professor Ganeshi Lal administered the oath of Office and Secrecy at the State Convention Centre in Lok Sabha Bhawan in presence of Chief Minister Naveen Patnaik. Chief Secretary Pradeep Kumar Jena conducted the ceremony.
Several Ministers, MPs, MLAs, senior Government Officers attended the Swearing-in Ceremony.
All three new Ministers had earlier served as Ministers under Chief Minister Naveen Patnaik.
Notably, Assembly Speaker Bikram Keshari Arukha along with two controversial Ministers Samir Ranjan Dash (School and Mass Education) and Srikanta Sahu (Labour and Employees' State Insurance) resigned from their positions on May 12. Besides, the then Health Minister Naba Kishore Das was murdered on January 29 this year, creating another vacancy in the Cabinet.
The Odisha Council of Ministers can have 22 ministers including the Chief Minister but now has 19 ministers. With the induction of three new Ministers, the vacancy in the Cabinet filled up.
According to sources, the Chief Minister may also make changes in the portfolios of some Ministers today. The BJD Government has all set to face the next Assembly and Lok Sabha polls with the new team of Ministers.
However, who will be the next Speaker of the State Assembly has not yet been cleared. The probable names for Speaker's posts making the rounds are: Prafulla Samal, Debi Prasad Mishra, Amar Prasad Satpathy, Snehagnini Churia and Badri Narayan Patra.
Naveen Patnaik had effected a complete reshuffle of his Cabinet last time in June 2022. So, this was the second reshuffle of his Cabinet in this term.