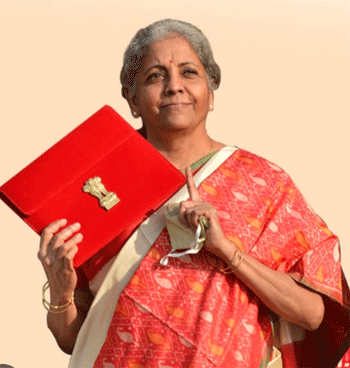 Bhubaneswar: The Odisha State Administration kept a close watch on the trend of the financial arrangements for various sectors in the budget of the FY 2023-24. Making a major shift from MGNREGA, Union Finance Minister greatly boosted capital expenditure. The budget made a hike of Rs.10 lakh crore in total infrastructure spending, a whopping rise of 33% with Railways and Roads taking the major share. The states will get Rs.1.3 lakh crore! Odisha gets Rs.10,012 crore from Indian Railways. In fact, the Union Budget showed the path to the Odisha Government to 'Think Big', by infusing funds for infrastructure development. While Odisha has the capability to plan and execute big infrastructure projects, the annual budget was an 'eye opener', admitted a senior official.
In Odisha there has been a substantial increase in capital spending. The capital outlay which was only Rs.853 crore in 2003-04 has increased to about Rs.26,000 crore in 2021-22. The capital outlay as share of GSDP has increased from 1.3% in 2003-04 to about 4% in 2021-22. Capital outlay has been in tandem with the developmental needs of the state. About 63% of total outlay has been allocated for developmental sectors such as major and medium irrigation, flood control, transport infrastructure, etc.
Now planners of the state are to think bigger on infrastructure development with a big jump in capital outlay. While there is scope for at least Rs.3 lakh crore investment in infrastructure in the State, Odisha Administration is shying away to go for a hike in a big way. While there is enough funds in the State Treasury, ability for spending has gone down, officials admit.
Let's talk about a major infrastructure project, which will change the scenario in the state: the future Metro Rail in the Capital Region. Cuttack, Khurda and Puri districts can be connected with Super Rail, which will ease congestion, pressure on Bhubaneswar, where living space is shrinking and land price is skyrocketing and green space is squeezed. The Metro Rail connecting Chowdwar-Cuttack-Bhubaneswar-Khurda-Konark-Puri will bring relief to the people living in these areas, and it will spur huge business opportunities. Odisha has been planning for Metro Rail since 2000. While the Odisha Government is building up Puri as an international destination with an international airport, not thinking about a metro rail is shortsightedness. This will entail huge investment by the State Government.
Secondly, setting up cold storages will boost agri-marketing and empower farmers. 63% of 127 cold storages are defunct. Now, the State Government with the new PPP Policy should attract private investment in cold storages. Each Block needs a cold storage. When the State is making a move to enhance farmers' income, infrastructure in the Agriculture sector is needed most.
There are several other areas in Urban, Works, Rural Development, Panchayati Raj, where infrastructure allocation and spending can be speeded up. And the Union Budget has given the ideas.
However, Odisha is not happy with the Union Budget. Experts analyzing the impact are not happy as hardly any of the demands are accepted by the Centre. The areas of disappointment are GST Compensation Regime extension, sharing pattern in CSS for Odisha at par North East States, advance indication on central assistance for CSS, more Grant-In-Aid, provision of more funds for food subsidy, financial inclusion, more funds for national Highways, sharing cess amount with state etc. The list was long and hardly any of these demands were accepted barring demand for more funds for Railways. Odisha requested for Rs.8840 crore and the Union Government sanctioned Rs.10,012 crore!
Senior officials are now worried as entire social sector funding has been slashed and Odisha is going to be adversely affected by this. This is because Odisha is a poor state and it requires more support in the social sector. Visible decline in allocation in MGNREGS will have severe impact on rural employment and asset creation process in rural areas. Similarly, there is no increase in funding for Pradhan Mantri Gram Sadak Yojana (PMGSY). Now the State Government shall ask big on Rural Infrastructure Development Fund (RIDF) for setting up rural infrastructure.
Major farm sector programs PMKSY, RKVY, PM KISAN, crop insurance have lower funding. Reduced allocation in National Health Mission, lower budget in Mission Shakti would be detrimental to the development and empowerment of women and children, feel officials. Budgetary support for the National Education Mission has declined for 2023-24. This will adversely affect the elementary education sector. So, the State Government will have to hike funding in the Health and School Education sectors.
Major concern is reduction in allocation for food subsidy for decentralized procurement under NFSA which will badly affect the paddy procurement process in the state. This is viewed as a regressive measure. Odisha State Civil Supplies Corporation (OSCSC), the major procuring agency of the state is yet to receive Rs.11,690 crore as subsidy from Government of India. Advance subsidy of Rs.2600 Crore is due from the Union Government. Now funding in this sector has gone down.
Only one single point that makes the financial experts happy is that the State is expected to get more funds on account of 'Shared Tax'. Odisha's share in shared tax was budgeted at Rs.36,977.68 crore in 2022-23 in Budget Estimate(BE), however it was revised to Rs.42,989.33 crore in 2022-23 Revised Estimate (RE). The gain in revenue to Odisha is Rs.6011.45 crore.
Similarly, devolution to Odisha has increased marginally from 1.34 Percent of Gross Tax Revenue (GTR) 2022-23 BE to 1.38 Percent of GTR in 2023-24. In 2023-24 Budget Estimate shared tax for Odisha is Rs.46,251.18 crore. So, there will be an increase.
However, Union Government Policy of reducing the borrowing capacity of the State is detrimental to the States, feel analysts. The Union Budget for 2023-24 limiting the states' borrowing capacity to 3.5% of Gross State Domestic Product (GSDP) from an earlier limit of 5%.
While the State Government harped on more support for the MSME sector, there is hardly any good news. The revamped credit guarantee scheme for MSMEs through infusion of Rs 9,000 crore is not going to ease the situation of this major employment generating sector, officials feel.
Overall one can say the Union Budget for 2023-24 has given thrust on infrastructure development in a massive way, which will give impetus to asset creation and creating job opportunities, however less attention on Social Sector will harm the people's interest, feel analysts.