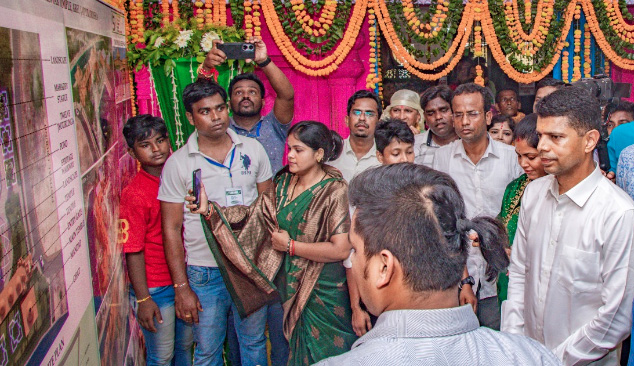 Jajpur: Ace Mandarin, VK Pandian has visited Jajpur District to review the progress of various developmental works in the district and redressal of public grievances.
Secretary to CM discussed development of Mahabinayak Temple in Badachana and Baruneswar Temple in Binjharpur, where he interacted with Sebayats, Trustee Members and general public for development of Temples along with better facilities for the devotees and took suggestions on various aspects of transformation of the temple and related pilgrim/ tourist amenities. He directed the district administration to prepare a master plan for development.
Shri Pandian reviewed the progress of ongoing Mega Piped Water Supply Projects at a cost of Rs. 956 Cr in Badachana, Binjharpur, Dasarathpur, Dharmasala , Rasulpur and Jajpur Block. These projects will provide water supply to the households across all the blocks. The projects will be operationalized in phases from December 2023 onwards. He directed the officials concerned to ensure timely completion and quality of services.
He also reviewed the progress of Mega Lift Irrigation projects at a cost of Rs. 223 Crores and In-stream Storage Structures across Kochila and Baitarani River at a cost of Rs. 373 Crores. These projects will be completed by September 2025. He asked the officials concerned to ensure adherence to project timelines.
During the day, he participated in the Public Grievance Meetings in Badachana, Binjharpur, Dharmasala and Jajpur. He interacted with the public regarding their grievances. He said that Chief Minister Naveen Patnaik gives top priority towards citizen grievances and assured early resolution of the petitions submitted.
Shri Pandian reviewed the progress of other major ongoing projects in the district such as the new 250 bedded DHH building at Jajpur with at a cost of Rs. 98 Crores and Sports Stadium and Sports Academy at Jajpur at a cost of Rs. 41 Crores. He instructed for early completion of these projects adhering to the principles of 5T.
He also reviewed the progress of major Roads in the district and instructed concerned officials to ensure timely completion of these projects.
Special Secretary to CM, R. Vineel Krishna, Chakravarti Singh Rathore, Collector, Jajpur, Vinit Agrawal, SP, Jajpur and other district level officials accompanied him during the visit.