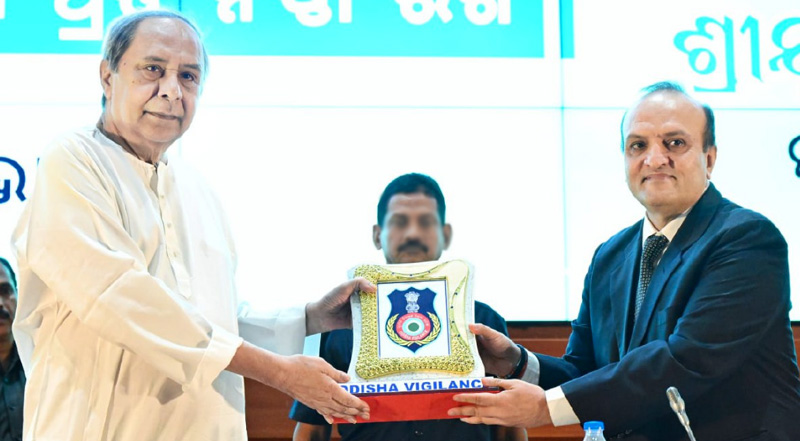 Bhubaneswar: Emphasizing on State's 'Zero Tolerance' approach towards corruption, Chief Minister Naveen Patnaik today urged Vigilance Department to adopt technology and rope in more professionals with domain expertise to aid effective detection of benami transactions, money laundering, corruption through digital transactions, investments in newer financial instruments like crypto-currencies.
The Chief Minister was addressing at the State-level observation of Vigilance Awareness Week. The observance of Vigilance Awareness Week commenced in the state today with the administration of integrity pledge by the Chief Minister.
In a unique way, the integrity pledge was administered by the Chief Minister through Odisha State wide Network (OSWAN) to all district and block headquarters officials and through live telecast by the Information & Public Relations Department, Odisha to members of the public, students of schools and colleges, members of self-help groups, Panchayats, Asha workers, AWWs.
This mass pledge is expected to further strengthen the extent of awareness on a corruption-free society at every level.
On this occasion, the Chief Minister congratulated Odisha Vigilance as it comes among the top performing anti-corruption agencies in the country as revealed by the latest statistics from the National Crime Record Bureau (NCRB). He also expressed happiness that during last year, Odisha vigilance continued detecting disproportionate assets against senior public functionaries.
"As we all know, corruption undermines growth, development and good governance. My government has therefore adopted a 'zero tolerance' approach to corruption so that public services are made available to the people of the state in a fair and transparent manner, he said.
A number of public servants have been dismissed and many have been given premature retirement in suitable cases as a strong deterrent, Shri Patnaik said.
He also focused on the Transparency of 5T Initiative undertaken by the Government with a view to achieve transformational goals in governance. He also appealed to the people of Odisha to renew their resolve to fight against corruption and usher in a corruption-free and a New Empowered Odisha.
Computer based investigation and prosecution management system and Vigilance Division office new buildings at Balasore and Rourkela inaugurated by the Chief Minister through Video Conferencing. Chairman 5T & Nabin Odisha VK Pandian was present.
Chief Secretary Pradeep Kumar Jena in his address said that implementing honesty and integrity in public life is already one of the main pillars of our State Policy. Odisha has been at the forefront of the fight against corruption, he said.