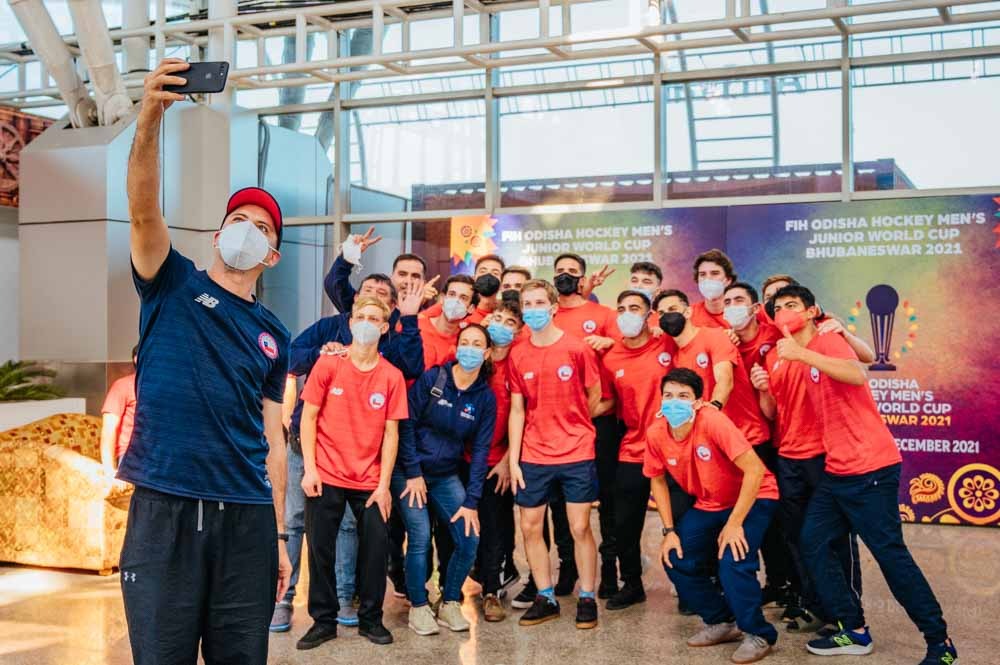 Bhubaneswar: With only six days left for the FIH Odisha Hockey Men's Junior World Cup, teams of various countries arrive in the temple city Bhubaneswar to participate in the mega sporting event.   
Team USA and Chile arrived here on Thursday while team Malaysia, Netherlands, France and Argentina reached on Wednesday.
Grouped in Pool C, along with Korea, Spain, and the Netherlands, the USA are in for a tough battle to make it through to the group stages. "We had a camp in California. It was around 10 days, so we had a training camp there. We were preparing as a team, so we are ready to go," asserted Pat Harris, USA Head Coach.
Excited to compete in Bhubaneswar at the iconic Kalinga Stadium, Harris said, "The boys are very excited. This is the first time for many that they have been in such a hockey atmosphere. I think to the world, India has a very strong hockey culture with a big hockey stadium. So, I am sure the boys will really enjoy playing in the hockey stadium."
While speaking about the team's preparations, Chile Captain Nicolás Abujatum said, "We have been preparing a lot. We were a part of the Pan-American Championship, which was a big part of our process. Afterwards, we continued training for the World Cup with our staff. We are excited to play at Kalinga Stadium, as most of us have not played in such a great stadium."
Speaking on the prospect of playing at the iconic Kalinga Stadium Malaysia Head Coach Wallace Tan expressed, "Our team is very excited to play at the Kalinga Stadium as it is a very big and respected stadium. Many big tournaments have been held here, and many legends have played here, so it will be an honour to play here."
Grouped in Pool C, along with Korea, Spain, and the USA, the Dutch have a tough battle in store for them from the early stages of the competition.
"For the last 2-3 months, we have trained with each other every Monday-Tuesday. We also spent a lot of time with each other on and off the field to know each other better and make better collation between all of us. It has been a good preparation," asserted Silas Lageman, The Netherlands Captain.

Team France also arrived just an hour after rivals The Netherlands and talked about the team's plans for the tournament. "We're excited to come, the last time we came was in 2013 with a Silver medal. We've missed the next one. We dream to make the same performance from 2013. We came here to perform, 1/4 Final minimum," Aymeric Bergame, France Head coach said.

"It is always a good thing to come to a country like India. Everything is done to be in perfect conditions here, every time. This country is a hockey country and every event here is something incredible," Timothee Clement, France captain added.