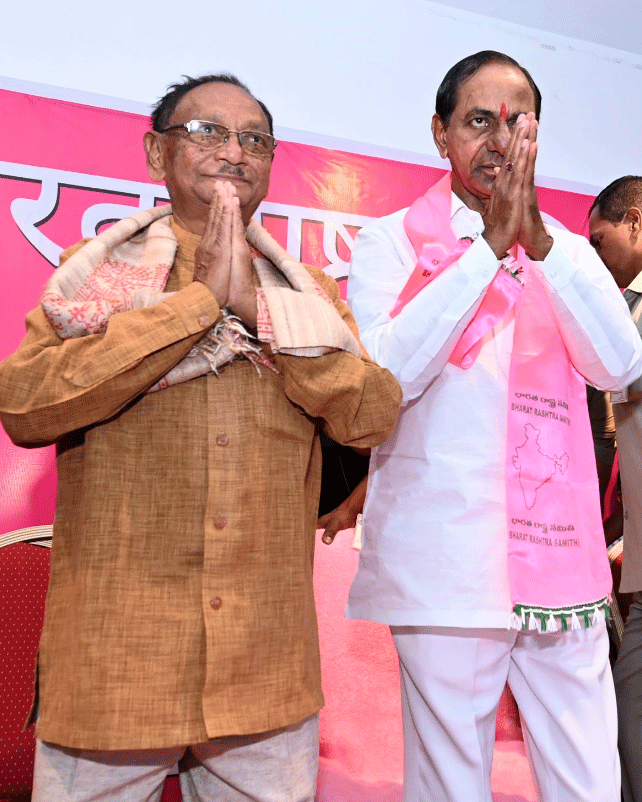 Hyderabad: Former Chief Minister and nine-time MP Giridhar Gamang, his wife Hema, son Sishir along with a dozen of political, farmer and social leaders have joined the newly floated Bharat Rashtra Smaithi (BRS) party in here on Friday.
Several others leaders including Ex-MP Jayram Pangi and ex-MLA Nabin Nanda, Navnirman Kishan Sangatan Convenor Akshay Kumar, Sangthan's Seshdev Nanda, Odisha PCC former Secretary Kailash Kumar Mukhi, RTI activist Pradeep Pradhan and Journalist Pramod Samantrai also joined the BRS in the presence of its President and Telangana Chief Minister K Chandrashekhar Rao.
The BRS Chief welcomed them into BRS by presenting party scarves to them.
Seaking on the occasion, Shri Rao said 75 years was too long a period for transformation of a country with abundant resources but the harsh reality was that large sections were still denied basic needs such as water for drinking and irrigation, power, healthcare among others.
Shri Rao said adding that there was a need for farmers coming together across the country and ensuring 'ab ki baar, kisan sarkar' to dictate the terms to ruling parties.
"Odisha needs development, which is yet to start. Our BRS will contest in all 147 MLA and 21 MP seats in the next election," said Sishir Gamang.
The leaders from Odisha have formally joined the party today and are taking rest in Hyderabad. The senior leaders will have a meeting with KCR soon to chalk-out a roadmap to expand the party's base in Odisha, said a leader, who joined the BRS today.
According to sources, the BRS will focus on Southern Odisha, especially Telugu-speaking border constituencies. The party will fight the next election with a focus on farmers and tribals.  Shri Rao is also expected to visit Odisha in the last week of February to launch the party's Odisha unit.
However, Governing BJD and Opposition BJP claimed that there will be no impact of the BRS in Odisha. BJD Chief Whip Prasant Muduli said BJD has a strong organisation and the party has faith in it. The party will again come to power in 2024, he claimed.
Similarly, BJP leader Prithviraj Harichandan said, "Odisha politics in past had also witnessed several such parties. But all disappeared at a later stage. So, here there is a fight between BJP and BJD."
The BJP is fighting with its development agenda while the BJD is fighting with its face Chief Minister Naveen Patnaik, he said.