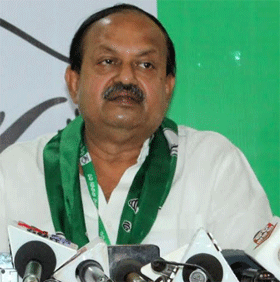 Jharsuguda: Moving fast in the race for the Jharsuguda MLA seat, the Governing Biju Janata Dal (BJD) has engaged 12 senior leaders for the by-poll to the Assembly segment.  Earlier, the BJD had appointed three senior leaders as observers for the by-poll.
As per an order of the BJD, Ministers Atanu Sabyasachi Nayak and Tukuni Sahu have been appointed as Observer for Kirmira block; while Minister Niranjan Pujari and MLA Saroj Meher have been appointed for Kolabira block; MLAs Padmanav Behera and Arun Kumar Sahoo will look after Jharsuguda block.
Similarly, Ministers Pratap Keshari Deb and ex-Minister Dibya Shankar Mishra have been appointed as observers for Laikera block; whereas senior leaders Pratap Jena, Puspendra Singhdeo, Snehangini Chhuria and Rita Sahu will look after Jharsuguda Municipality.
The ruling party had earlier appointed senior leaders Prasanna Acharya, Devi Prasad Mishra and Sarada Prasad Nayak as observers for the upcoming by-poll.
As this by-poll is going to be the last election before the next Assembly and general elections 2024, the BJD is leaving no stone unturned.
The BJD has fielded Deepali Das, daughter of the slain Minister Naba Kishore Das, to get sympathy votes and to downplay the Minister's murder case.
The BJP and Congress have yet to name their candidates for the by-poll, which will be held on May 10 and the result will be declared on May 13.