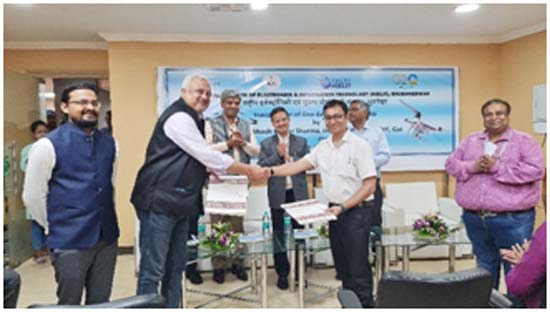 Bhubaneswar: A workshop on Drone Technology was organized by National Institute of Electronics and Information Technology (MeitY) in collaboration with AIC-Nalanda & Karkhana Makerspace on 27 April 2023 in their premises at OCAC Tower.
The program was inaugurated by Alkesh Kumar Sharma, Secretary, Ministry of Electronics & IT, Arvind Kumar, DG, STPI, M M Tripathi, DG, NIELIT, Surya Kumar Pattanayak, Director, STPI, Bhubaneswar and Anurag Mathur, Director-In-Charge, NIELIT, Bhubaneswar.
Shri Sharma addressed the participants and discussed on the various aspects of technology from the perspective of capacity building for the future workforce.
Shri Kumar asserted on the role played by STPI in driving the software export potential of the nation.
Shri Tripathi also elaborated on the various projects undertaken by NIELIT centres spread across the country.
Shri Mathur welcomed everyone for the workshop and highlighted upon the progress of activities at NIELIT, Bhubaneswar.
Secretary MeitY also reviewed activities of NIELIT Bhubaneswar and interacted with students undergoing training there along with also taken demo of Innovative IoT projects made the students.
On this occasion, NIELIT Bhubaneswar signed 3 MoUs of partnership with organizations like Atal Incubation Centre – Nalanda Institute of Technology Foundation, a business incubation centre supported by Atal Innovation Mission, Karkhana Makerspace, an edtech startup which pioneers in training students for product development in emerging fields of technology and Swabalambee Odra Green Farmers Producer Company, a startup promoting usage of drones in agriculture.
The workshop was conducted by Prashant Gupta,Joint Director &Head(Academics), NIELIT Bhubaneswar, Manas Kumar Samantaray, Program Manager, AIC-Nalanda and Siddharth Bhatter, Founder & CEO Karkhana Makerspace.
The event witnessed a participation of 30+ students from various technical colleges across the city who got an exposure on drone technology and its future applications. The dignitaries also reviewed the facilities available at NIELIT Bhubaneswar and the projects developed by its students