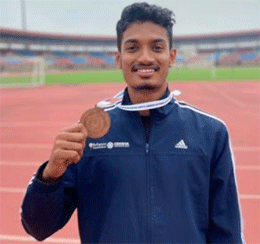 Bhubaneswar: High jumper Swadhin Majhi of Angul produced an impressive performance at the recently held All India Inter-University Athletics Championship for Men in Mangalore to return with a bronze medal. Twenty-year-old Majhi, who trains at the Reliance Foundation Odisha Athletics High Performance Centre (HPC) at the Kalinga Stadium here, came with a personal best of 2.08 metres for the third place in the event. He would have performed better, had he not sustained an ankle injury during his first attempt.
Based on his observations at the meet in Mangalore, Reliance Foundation Odisha HPC Head Coach James Hillier identified some technical aspects to improve Majhi's performance.
"With Swadhin, I have been focusing on his body positions in the run up and particularly in the last three strides," said Hillier. "I feel that he is not setting up the jump optimally yet. He is improving but these technical changes take time," he added.
The other eye-catching performance at the Mangalore meet came from sprinter Amlan Borgohain, who has been training at the HPC since 2019. Borgohain clinched silver in the 100m, producing timings of 10.58, 10,55 and 10.50 seconds in his three races in the competition. Expressing satisfaction over Borgohain's performance at Mangalore, Hillier said that it was too early in the season for athletes to be producing their best timings.
"Amlan made a couple of errors in the final that ultimately cost him the gold, but I'm sure he has learnt from his mistakes, and he will be a better athlete in future."
With high profile events such as the Commonwealth and Asian Games scheduled for later this year, Borgohain is focused on being in the peak of shape to put his best foot forward at those competitions. The coaching staff and support teams have identified critical interventions needed to ensure that he arrives at those competitions with the best preparation possible.
The World University Games, scheduled to be held in China in June this year is of immediate interest to Borgohain.