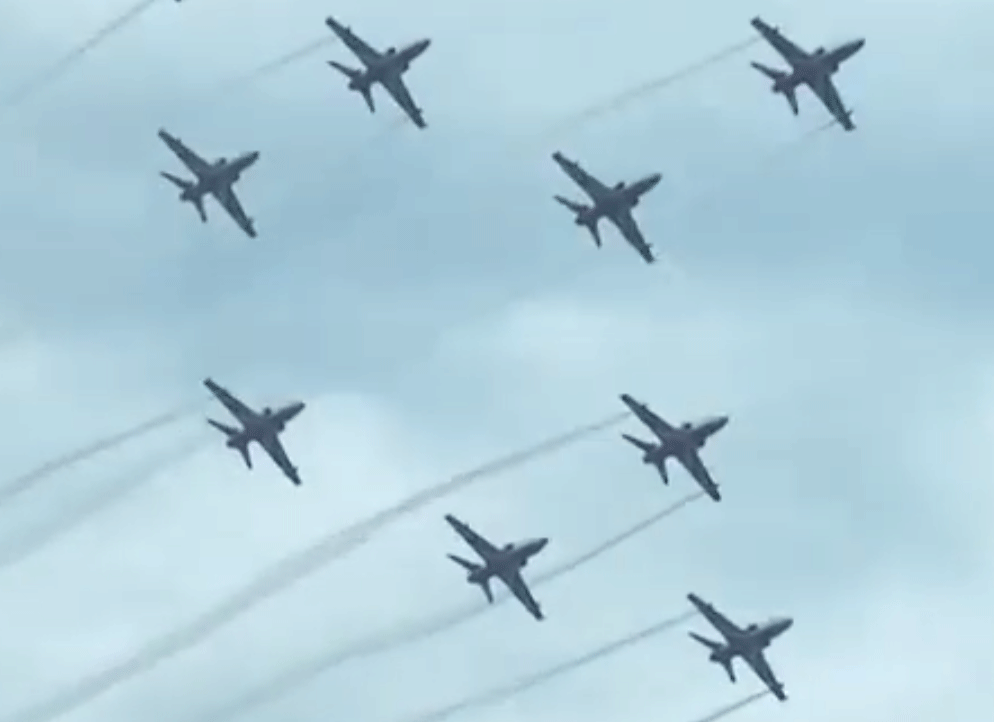 Bhubaneswar: The Suryakiran Aerobatic Team of Indian Air Force (IAF) on Friday performed the spectacular and daredevil aerobatic show in the Bhubaneswar sky over the Kuakhai river bed for about 30 minutes.  
Thousands of people from different parts of the State particularly from the twin cities of Cuttack and Bhubaneswar were awestruck after nine pilots of red and white Hawk 132 Aircraft manufactured by the Hindustan Aeronautics Ltd divided into two groups and exhibited a series of loops, barrel rolls and manoeuvres in the air.
The pilots showed the prowess, skill and efficiency of the Indian Air Force during the show which started at 10.15 AM and continued till 10.45 AM.
Governor Prof Ganeshi Lal joined the event as Chief Guest while Chief of Eastern Air Command Air Marshal DK Patnaik was also present here.
The Air show was organised to commemorate the 75th independence of India and to inspire and encourage the youths to join the Indian Airforce.
The Governor said this airshow gives a message to the world that India's survival is must for the survival of the entire world. It also shows how the sky and earth meet each other, he said.
Expressing happiness over the fabulous show by the IAF team, the Governor said that he is going to attend the upcoming air show in Puri on Sunday.
"After witnessing the show, my heart says to join the IAF. As I cannot join, it would be better if any of my children join the airforce," said the Governor.
Air Marshal DK Patnaik said that as part of the Azadi Ka Amrit Mahotsav, such shows are being organised at various places across the country. The show started with today's event in Bhubaneswar. The main aim of organising the airshow was to attract youths to join the air force, he said.
Elaborate arrangements were made on both sides of the river to help the people witness the rare event. The twin city Commissionerate of Police deployed around 15 platoons of police and 100 officers and an ODRAF team to ensure that the event passed off smoothly without any untoward incident.
According to an conservative estimate around 50,000 people gathered to witness the show. Arrangements were also made for 1200 VIPs to watch the event.
The Suryakiran team conducted rehearsal at the river bed on Thursday prior to the main event on Friday.