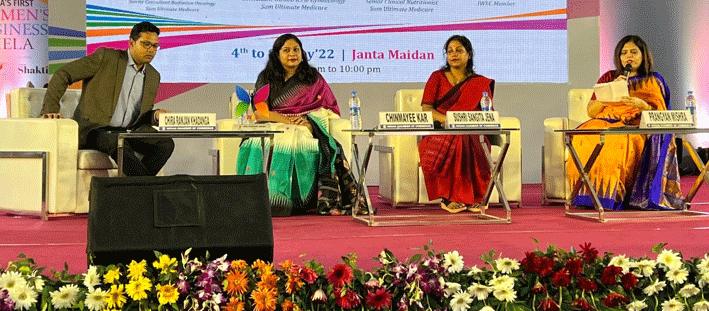 Bhubaneswar: Rise in awareness level and regular screening is the way forward to battle cancer in women, Dr. Chira Ranjan Khadanga, Radiation Oncologist at SUM Ultimate Medicare (SUMUM) here has said.
"Areas of key concern are the incidence of cervical cancer and increasing occurrence of breast cancer in women who require regular screening and awareness about the symptoms," Dr. Khadanga said while addressing a special session on 'Women's Health' at India's first Women's Business Mela which concluded here on Sunday.
Dr. Khadanga was a member of the three-member team form SUMUM which participated in the panel discussion on the subject at the event organized to create business opportunities for women, exchange entrepreneurial ideas and promote women's entrepreneurship in Odisha. The other two participants were Dr. Chinmayee Kar, Consultant, Obstetrics and Gynecology and Ms. Sushri Sangeeta Jena, Senior Clinical Nutritionist.
Emphasising on the importance of regular cancer screening like PAP Smear test to check for cervical cancer and mammogram for breast cancer once women reached the age of 30 years, Dr. Khadanga said women should not hesitate to take these examinations as most of these tests were painless. SUMUM, he said, facilitated painless diagnosis.
With the focus on women's health, Dr. Kar said women in their late 40's and early 50's should not ignore the symptoms of menopause and should consult their physician as menopause had myriad effects on the female body. She stressed the need for women to take steps to preserve their health and focus on preventive care by scheduling regular visits to the gynecologist.
Ms. Jena outlined the unique nutritional requirements of women which evolved with physical and hormonal changes like puberty, pregnancy, childbirth and menopause.
Stressing on the importance of antioxidants and micronutrients like calcium, folic acid, iron, zinc, Vitamin C and D in women's health, she said women needed to have a diet plan based on their vital nutritional needs to avoid health issues in future.
SUMUM, a 375-bed multi super-specialty quaternary care hospital, is a leading healthcare provider in Odisha and one of the largest hospitals in eastern India offering emergency care, heart care, advanced surgical procedures, diagnostics and imaging, maternity care and rehabilitation services for a broad range of medical conditions in more than 30 specialties.