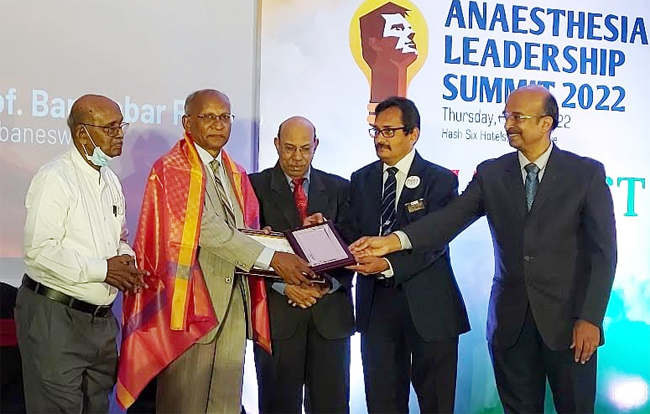 Bhubaneswar: Dr. Banambar Ray, Head of the department of Critical Care at SUM Ultimate Medicare (SUMUM), has been honoured with the Distinguished Mentor Award at the Ganga Anaesthesia Refresher Course (GARC) special ceremony held on May 5.
Dr. Ray received the award, instituted for the first time, at a special program organised at Ganga Hospital at Coimbatore. This is said to be the most coveted award in the specialty of Anaesthesiology and Critical Care in India.
Four other doctors were also presented the award along with Dr. Ray. The other awardees were Brig. R. Setlur (Kolkata), Dr. Avtar Singh (Ludhiana), Dr. Dipankar Dasgupta (Mumbai) and Dr. V. Nagaswami (Chennai).
The award is presented after assessing the quality and magnitude of mentorship the recipient had provided over the years to people who worked with them including students whom they had shaped in addition to their professional excellence.
The awards ceremony, known as the 'Anaesthesia Leadership Summit', was witnessed by the Who's Who of Anaesthesiology and the Indian industry heads who help the specialty in providing patient care.