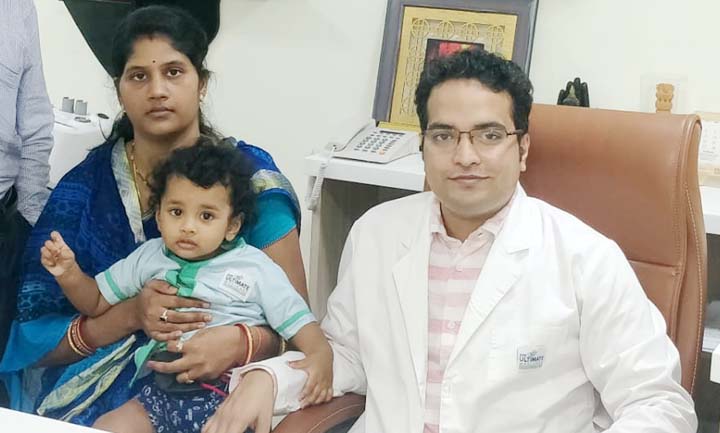 Bhubaneswar: Doctors at the SUM Ultimate Medicare here have saved the life of a one-year-old baby by removing an open safety pin from his food pipe valve.
As the family members, belonging to the city, were busy celebrating the first birthday of Ayansh Kumar Rout, nobody noticed the baby swallowing an open safety pin. The baby was also fed forcefully subsequently.
When the baby started coughing and crying, the worried parents first rushed him to a nearby hospital. An X-ray revealed that an open safety pin had got stuck in his food pipe and the baby was referred to SUM Ultimate Medicare for further intervention.
Dr. Radhamadhab Sahu, Head of the ENT and Skull Base Surgery in the hospital, attended to the baby in the emergency and decided to do a procedure to remove the safety pin without losing time. The required investigations were conducted and the safety pin was removed through minimal invasive surgery without any scar.
Dr. Dipankar Padhahari, Senior Consultant, Anesthesia, played a major role in making the procedure smooth. The baby was discharged after being kept under observation for two days and the parents were counseled to keep sharp objects out of reach of children.
Open safety pins getting lodged in the aero-digestive tract is always a surgical challenge and the risk increases many fold in case of babies, Dr. Sahu said.
In this case, the pointed end of the safety pin had pierced through the hypo -pharynx and touching the common carotid artery which was a major neck vessel. A small mistake would have led to fatal bleeding, he said.
Dr. Sahu has conducted several similar critical procedures in recent months to save the lives of little children with SUM Ultimate Medicare emerging as a Centre of Excellence for conducting such procedures.