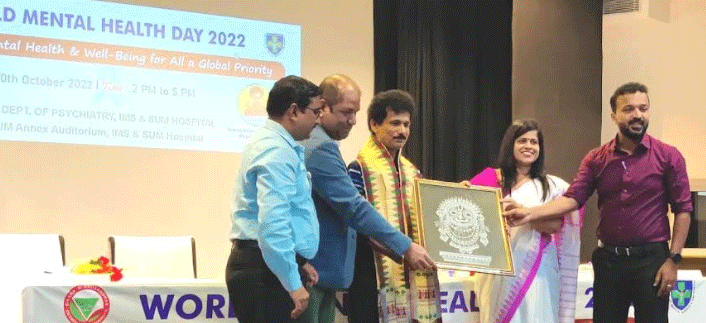 Bhubaneswar: The need for mental equilibrium, a state of balance between a person's mental framework and the environment, was stressed at a program conducted at the Institute of Medical Sciences and SUM Hospital here on the occasion of World Mental Health Day observed on Monday.
Focusing on the theme for the day this year—'Make Mental Health and Well-being for all a Global Priority', speakers said that any disturbance in the mental balance needed to be addressed medically in the challenging situation humankind had been facing in recent times.
The Dean of IMS and SUM Hospital, Prof. (Dr.) Sanghamitra Mishra attended the program, conducted by the department of Psychiatry, as the chief speaker while the Medical Superintendent Prof. (Dr.) Pusparaj Samantasinhar was the honorary speaker. Eminent film and TV actor, music director and stand-up comedian, Tattwa Prakash Satpathy, better known by his stage name Papu Pom Pom, who was the chief guest, regaled the audience with his views on the subject laced with humour.
A large number of medical students, faculty members, doctors and others attended the program where prizes were given to students who had excelled in essay, poetry and painting competitions held earlier.
Prof. (Dr.) Surjeet Sahoo, head of the department of Psychiatry and Prof. (Dr.)  Suvendu Narayan Mishra, professor in the department, also spoke. Dr. Jitendriya Biswal, Dr. Rakesh Mohanty, Dr. Snehanshu Dey, Dr. Amiya Sahu, Dr. Hiranmoy Mohapatra, Dr. Lagnajit Dash and Dr. Soumya Ranjan Dash conducted the proceedings while Dr. Kirti Anurag proposed the vote of thanks.