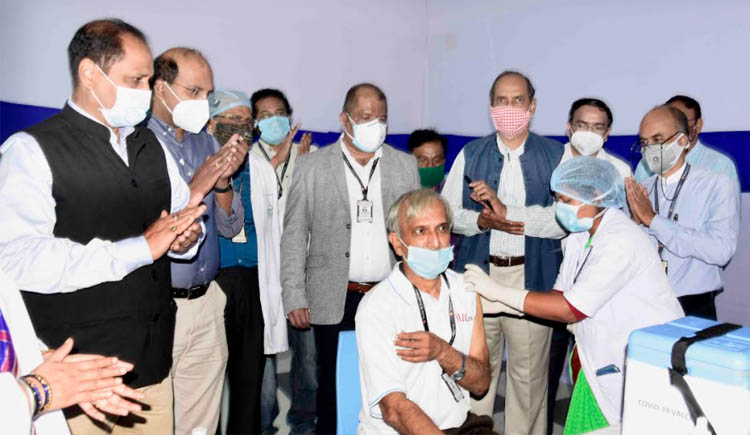 Bhubaneswar: An air of happiness and relief prevailed at the Institute of Medical Sciences and SUM Hospital, faculty of medicine of Siksha 'O' Anusandhan (SOA), here on Saturday where the inoculation campaign of Covid-19 vaccine Covaxin was launched with SOA's Vice-Chancellor Professor Ashok Kumar Mahapatra receiving the first shot.
"This is a day for which we have waited for over six months. I am happy to get vaccinated and it is a matter of satisfaction that our hospital was chosen as a centre for clinical trial of Covaxin," Prof. Mahapatra told media persons after being vaccinated.
He was kept under mandatory observation for 30 minutes before he came out to meet media persons.
Asked how he felt after taking the shot, Prof. Mahapatra said there was no side effect and he was feeling fine. "This is an inactivated virus but effective. No one should be afraid to take the vaccine as it is needed to battle the Corona virus which has hugely impacted our lives," he said.
"The side effect for this vaccine is minimal and there is no reason to be fearful. When we are not afraid to ride bikes and fly though there is every chance of a mishap, why should we be afraid to take the shot," he said adding he would take the second dose of the vaccine after 28 days.
On the first day, around 100 health workers including doctors, nurses, paramedics and sanitation workers were inoculated at IMS and SUM Hospital, one of the six chosen centres in the capital city where the vaccination had commenced. Two vaccines, Covaxin and Covishield were being administered in Odisha of which only Covaxin was being given at IMS and SUM Hospital.
Besides Prof. Mahapatra, several doctors representing IMS and SUM Hospital and SUM Ultimate Medicare were present at the launching of the vaccination campaign.
They included Dr. Banamber Ray, Head of the department of Critical Care Medicine at SUM Ultimate Medicare, Prof. Gangadhar Sahu, Dean of IMS and SUM Hospital, Prof. Pusparaj Samantasinhar, Medical Superintendent of the hospital, Prof. Ajay Kumar Jena, Additional Dean of the medical college, Dr. Rajesh Lenka, Additional Medical Superintendent of the hospital, Prof. Trilochan Sahu, Head of department of Community Medicine, Prof. E.Venkat Rao, Principal Investigator of the Covaxin clinical trial at the hospital and Dr. Pradipta Patra, Professor in the department of Immunology and Rheumatology.
SOA was also in the forefront of the battle against Covid-19 in Odisha as it managed four Covid Hospitals and two Covid Care Centres in collaboration with the state government with more than 2200 beds. The hospitals were set up at Bhubaneswar, Kendrapara, Talcher and Chandpur while the CCCs functioned at Jamujhari and Jatni.