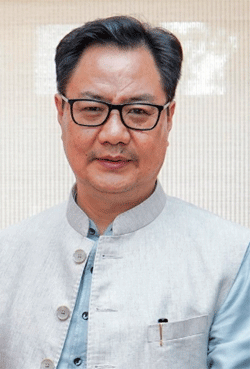 Bhubaneswar: On establishment of a permanent bench of Orissa High Court in South and Western Odisha, Union Law Minister Kiren Rijiju once again puts the ball on the State's court.
Speaking to media persons here on Saturday, Shri Rijiju said the Orissa High Court and State Government has to take the call on establishment of circuit bench of the Orissa High Court.
He further said it is the responsibility of the State Government to provide required infrastructure for establishment of a bench of the High Court.
The Minister said he is ready to give approval to the concrete proposal of the State.
"I have written a letter in this regard twice and even MPs from Odisha raised questions in the Parliament. In reply, all I can say is the Odisha government and Orissa High Court should take the matter forward and take necessary steps. We are ready to give approval," he added.
Earlier, Rijiju told Parliament that the High Court benches, at a place other than its principal seat, are established in accordance with the recommendations made by the Jaswant Singh Commission and a judgment pronounced by the Supreme Court in 2000.
The bench can be set up after due consideration of a complete proposal from the state government incorporating readiness to provide infrastructure and meet the expenditure, along with the consent of the chief justice of the concerned High Court and the consent of the Governor of the concerned state, he had mentioned in the letter.
Notably, the State Government has requested the Centre for setting up of Orissa High Court benches in western and southern regions of Odisha.
Following which, the central government has requested the state, time and again, to work out details of proposed benches including its location in consultation with the High Court of Orissa. However, the state has yet to respond to it.