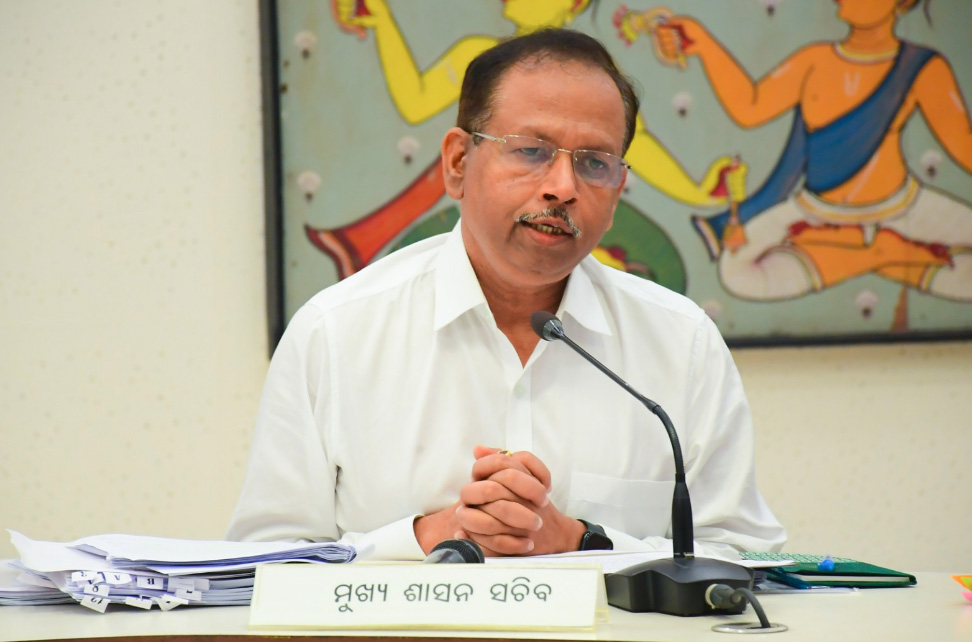 Bhubaneswar: The State Cabinet today approved the Food and Procurement Policy for Kharif Marketing Season (KMS) 2023-24 with a target to procure 54 lakh Metric Tonne (LMT) in terms of rice.   
Kharif Marketing Season (KMS) 2023-24 will commence from October 1, 2023 and conclude on September 30, 2024. The State Government will procure paddy during Kharif and Rabi seasons separately within the KMS.
A tentative target of 54 lakh LMT in terms of rice has been fixed for KMS 2023-24. In terms of paddy, this comes to around 79 LMT, said Chief Secretary Pradeep Jena.
For Kharif, the tentative target for procurement of paddy would be 65 lakh MT and for Rabi 14 lakh MT. There is no bar for procurement of any higher quantum if more paddy comes to mandies from registered farmers, he said
Food Supplies and Consumer Welfare Minister has been authorized to revise this target if the need arises, Jena said.
In KMS 2022-23 paddy to the tune of 79.16 LMT was procured (both Kharif and Rabi included). In terms of rice it comes to 53.57 LMT, he added.
The Cabinet has also approved a scheme, titled Improvement to Tanks and MIPs of DoWR for a period of three years (2023-24 to 2025-26) with an outlay of Rs 248.00 crore for revival of lost ayacut of approximately 16,400 hectares.
Under this scheme it is planned to renovate 503 Minor Irrigation Projects (MIPs) throughout the State to revive a lost ayacut of approx. 16,400 ha by restoring live storage capacity of the reservoirs to its designed capacity, the Additional Chief Secretary, Water Resources, Anu Garg said.
The Cabinet today approved the tender for construction of barrages across Turi & Guntat rivers in Nabarangpur district with an amount of Rs.106.12 crore along with operation and maintenance cost for five years amounting to Rs.2.76 crore. The work is planned to be completed in 30 months, she said.
Another tender of 126.96 crore was approved for construction of Bankatira barrage across river Budhabalanga at Darkuli in district Balasore. The O&M cost for five years amounting to Rs.1.89 crore. The work is planned to be completed in thirty months, Garg said.
Moreover, she said, another tender for construction of a distribution system for 5180 ha under the Subarnarekha Irrigation Project through Underground Pipeline irrigation system (Gravity Flow) in Mayurbhanj and Balasore districts also got the approval of the cabinet.
The objective of the present proposal is to construct Underground Pipeline (UGPL) distribution system for 5180 Ha. of CCA including Command Area Development (CAD) of Basta distributary from RD 2.007 KM to tail under Subarnarekha Irrigation Project in the district of Balasore & Mayurbhanj.
Cabinet approved the tender to Rs.162.91 crore and Operation & Maintenance cost for five years amounting to Rs.8.14 crore. The work is likely to be completed in 24 months.
Tender of Rs.160.77 crore approved for construction of left link channel and left distribution system through underground pipe line irrigation system (Pressure Flow) from Ghodahada reservoir of Chheligada Irrigation Project in Ganjam district. The work is planned to be completed in 24 months. The project will provide irrigation to 2760 Ha CCA in Ganjam district.