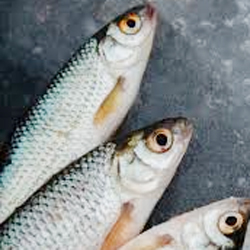 Bhubaneswar: Odisha is charting out Road Map for Fisheries sector with a Mission to improve Per Capita fish consumption to 20 KG by 2025.
While present rate of Per capita fish consumption is 16.24 KG, in 2019-20 and it will go up to that level in next three years, officials say.
With Arabinda Kumar Padhee taking over as Principal Secretary Fisheries and ARD(FARD), officials are engaged in chalking out Road Map under 5T initiative.
Department of Fisheries initiatives under diversified aquaculture, employment opportunities will be increased in the forth-coming years, officials say.
In near future, Odisha will witness diversified aquaculture species like Seabass, Mudcrab, Cobia, Pampano and P. Monodon in large scale level for supporting the exports as well as the livelihood of the farming community.
All the people in Odisha will get the fish at affordable rate and thus the consumption per capita from 16.24 KG to 20.00 KG per capita during 2025, officials say.
In Odisha State, more than 6.85 lakhs hectares of freshwater areas are available which produce 6.6 lakhs tons of inland fishes mainly Indian major carps like catla, rogu and mrigal. Odisha really required an alternative species for freshwater aquaculture and thus GIFT Tilapia can fulfil the requirements.
Odisha is one of the important maritime states of India having excellent scope for fisheries development other than freshwater areas with 4.18 lakh ha of Brackish water resources and 480Kms. of coastline for fisheries development of the state, they say.
Odisha has an aquaculture production of shrimp including tiger, vannamei and scampi has 44,555 ton during 2020-21
Paradeep Port exported 17 ton of marine products during 2020-21.
The per-capita fish consumption in the State is 16.24 kg in 2019-20.
These brackish water and coastal lines are very important for Odisha for augmenting fish production by introduction of diversified species. Seabass otherwise known as Betkhi is the suitable fish for brackish water as well as marine water and surprise to understand it can grow very well in freshwater too.
Department of Fisheries is very keen on introducing diversified species to the farming community for their livelihood, increasing the exports by the exporters and also support the domestic market.
State Government is planning to set up hatcheries for seabass, P. monodon and GIFT Tilapia very soon in Odishain association with MPEDA.
RGCA, research wing of MPEDA has signed an agreement with Odisha and the activities will begin very shortly. The old shrimp hatchery OSSPARC which was the land mark for Odisha for shrimp aquaculture has been reinvented for setting up of seabass and P. monodon hatchery.
Chilikalake is the Asia's biggest Salt Lake with average 1100 sq.km. waterspread area which is good for mud crab aquaculture. Very soon, survey will be conducted in this regard to establish hatchery in Odisha, said a senior official in Department of Fisheries.