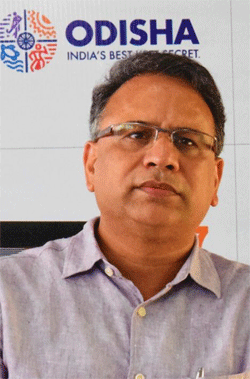 Bhubaneswar: With an aim to transform Women Self Help Groups (SHGs) into enterprises, the State Government has set a target to enhance the credit flow to Rs 4 lakh per SHG.
Under the 5T mandate of Mission Shakti, the Government has targeted to increase the loan size to Rs 4 lakh per SHG by the end of Financial Year 2022-23. The average loan size during the last financial year was Rs 2.20 lakh per SHG.
Vishal Dev, Principal Secretary Finance has asked the banks in the State to plan accordingly as the State Government aims at graduating SHGs to Entrepreneurs.
Mr.Dev said in the recently held SLBC Meet that the quantum of loan to the SHGs is crucial for undertaking livelihood and entrepreneurial activities in a sustainable manner.
The SHG Bank Linkage program undertaken by Mission Shakti has been of paramount significance with regard to the economic empowerment of 70 lakh women in 6 lakh Mission Shakti SHGs, said Principal Secretary Finance.
With institutional finance amounting to more than Rs 6,800 crore per annum, Mission Shakti SHGs have been able to own and operate women-led enterprises thereby significantly contributing to local economies, the senior mandarin said.
During the last financial year (as on March 31, 2022), 3,10,819 SHGs have been credit linked with loan amounting to Rs. 6836.48 crore against the annual physical & financial credit linkage target of 2,80,150 & Rs 6002.52 crore respectively.
The physical and financial achievement as percentage of the target comes to 111 per cent & 114 per cent respectively.
To increase the quantum of the formal credit to SHGs for undertaking different livelihood and entrepreneurial activities, the financial target for the current financial year has been fixed at Rs 8750 crore covering 3,50,000 SHGs, which is 125 per cent & 145 per cent of the last year target.
The average loan size per SHG was Rs 1.47 lakh in 2017-18, which goes down to Rs 1.10 lakh in the next year. The average loan size has been increased to Rs 1.49 lakh in 2019-20, further to Rs 1.70 lakh and 2.20 lakh in last fiscal.
For promoting women-led entrepreneurship across the State, banks have been asked to allocate at least Rs 2 lakh for fresh/1st linkage irrespective of the SHG corpus. Similarly, a minimum loan size of Rs 4 lakh & Rs 6 lakh will be earmarked for 2nd linkage and 3rd linkage/subsequent linkages respectively.
To reduce the interest burden and encourage SHGs to invest more capital in livelihood activities, loans upto Rs 3 lakh are provided to SHGs under the Mission Shakti Loan at 0 per cent annual rate of interest on prompt and regular repayment.
Interest subvention claims amounting to Rs 162 crore have been settled under 'Mission Shakti Loan' -State Interest Subvention Scheme during 2021-22, benefitting 2.87 lakh eligible SHGs.
Considering the growth in credit linkage and repayment of loan by SHG during the current year (2022-23), annual target for Mission Shakti Loan – State Interest Subvention has been fixed to Rs 200 crore.
To integrate online digital solutions to bolster the 'Mission Shakti Loan' implementation process, a state-of-the-art Management Information System (MIS) has been developed by Mission Shakti in collaboration with Tata Consultancy Services (TCS).
During the last financial, interest subvention amounting to Rs 58.81 crore was directly transferred through this portal benefiting 1.79 lakh SHGs
Similarly, to ensure last mile delivery of banking services in unbanked and under-banked Gram Panchayats, the State Government made a historic decision of engaging Women SHGs and Federation Members as Business Correspondent Agents (BCAs).
A total of 2203 BCAs are currently operating across the State. Transactions amounting to Rs 979.94 crore have been undertaken by these BCAs during the last FY. The BCAs get commission based on type, number and amount of transactions made by them which varies within the range of Rs 1500 to Rs 22,000 per month.
The State Government has fixed a target of Rs 50,000 crore to be disbursed by banks among women SHGs during next five years.
During the Financial Year 2019-20, 66,240 SHGs were provided with government business worth of Rs 1,010 crore in convergence with ten Departments.
During the FY 2020-21 and 2021-22, government business amounting to Rs 1,264 crore and Rs 2,372 crore respectively have been generated by promoting livelihood diversification of 1,04,712 SHGs in convergence with 14 Government Departments.