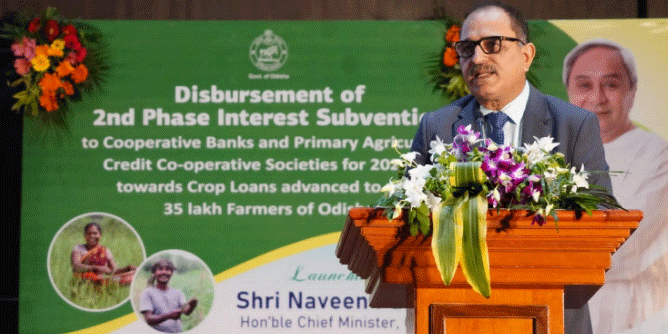 Bhubaneswar: Principal Secretary Co-operation, Sanjeev Chadha has said that as per 5T Charter, Odisha has formed over 1500 new Primary Agricultural Co-operative Societies (PACS).
In order to strengthen the PACS, creation of infrastructure in a major scale is being taken up during this year. This will include Office Complex and Storage Godowns, said Shri Chadha.
Principal Secretary Co-operation was addressing the release of Interest Subvention for the farmers to help out the small and marginal farmers in the State.
Shri Chadha said that during 2022-23, Odisha State Co-operative Bank and District Central Co-operative Banks have provided Crop Loan worth Rs.16,684 Crore to around 35Lakh farmers and more than 90 Percent of these farmers belong to small and marginal category.
In order to ensure flow of timely and adequate credit at affordable interest rate to the farmers, the State Government has been providing interest subvention to Co-op Banks and PACS since 2006-07.
In a historic decision, the State government started providing interest subvention to facilitate disbursement of crop loans to farmers up to Rs.50,000 at 0% interest from 1.4.2019 and raised the limit to Rs.1 Lakh last year to benefit 45 Lakh small and marginal farmers.
Interest subvention is also provided to extend crop laons above Rs.1 Lakh up to Rs.3 Lakh@2% interest to the farmers to ensure adequacy of credit to needy farmers.
The State Government is providing interest subvention in order of about Rs.800 Crore annually to Cooperative banks and PACS from the State Budget.
In order to ensure sustained flow of timely, adequate and hassle free crop laons to farmers at affordable cost, the State Government have been providing several supports to Cooperative Banks and PACS.
Those include, equity support of Rs.150 Crore annually to strengthen the capital base of Cooperative Banks and PACS.
State Government is providing financial assistance for computerization of PACS to facilitate efficient and transparent service delivery to farmers. In fact Odisha is the only State in the country to computerize operations of PACS in CBS.