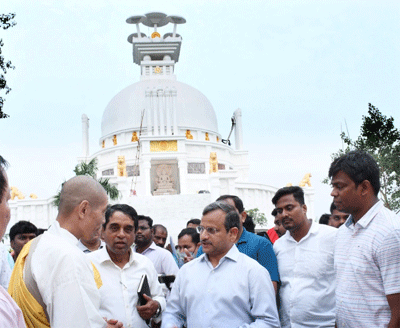 Bhubaneswar: DhauliPeace Pagoda is getting prepared for the golden jubilee celebrations.
Minister Science and Technology, Public Enterprises Ashok Chandra Panda, Chief Secretary Suresh Chandra Mahapatra, Additional Chief Secretary Odia Language, Literature and Culture Madhusudan Padhi Sunday afternoon visited the Peace Pagoda at Dhauli to review the field level progress of the conservation and renovation works being undertaken by State Government on the eve of the golden jubilee celebration of Dhauli Shanti Stupa.
The Chief Secretary discussed with the engineers and officers working at the ground level and spoke to the monk and disciples there about the quality and status of the works.
The major works included examination of the structural stability of the Stupa, structural grouting, micro concreting, marvel flooring, marvelling of the steps leading to the Stupa, widening and flooring of the front platform, pavement path way on both sides of the Stupa, landscaping, beautification, anti-carbonation painting and waterproofing of the Stupa, peripheral site development, proper earthing system for saving the Stupa from lightning effect, fixing of a lift from ground level to platform of the Stupa, installation of filtered drinking water system, widening of connecting roads, proper light arrangements both inside and outside of the Stupa and due arrangements for continued light and sound show etc.
Odisha Bridge Construction Corporation and engineers of Works department are supervising the ground level works at each phase.
Most of the works have been completed. Some are at the finishing stage. Chief Secretary Sri Mahapatra directed to complete scheduled works in all respects and make the place ready for Golden Jubilee Celebration within two days.
The Monks and disciples present on the spot appraised that there would be two-days celebration.
On October 27 a Peace March will be held from the Circuit House and Governor House square to the Shanti Stupa.
Monks and disciples from different countries will take part in the Peace March.
The next day Puja at Dhauli will start from 9.45 AM along with a mass peace prayer.
Chief Minister Naveen Patnaik would grace the Golden Jubilee Celebration as the Chief Guest.
The celebration would be a grand pious occasion for Buddhists of the World, and a great pride for the State of Odisha.