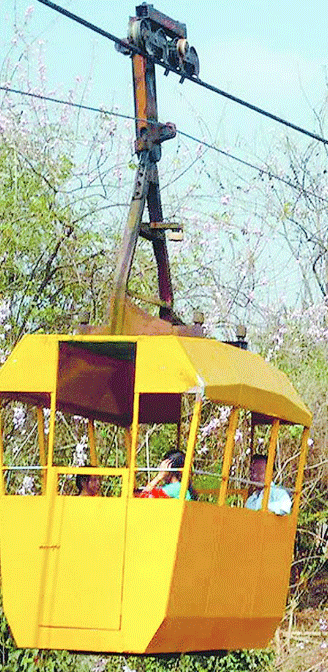 Bhubaneswar: In an aim to attract a large number of tourists to several religious and natural tourist destinations, the State Government is planning to install a ropeway in 10 locations across the State.
According to a proposal prepared by Department of Works, the ropeways are likely to be operated at Bhimkund in Mayurbhanj district (0.7 km), Gonasika in Keonjhar (0.67 km), Malayagiri Mountain in Angul (2.6 km), Devkund in Mayurbhanj (0.36 km), Dudhari in Koraput (0.32 km), Putudi waterfall in Kandhamal (0.26 km), Satkosia in Nayagarh district (1.72 km), Eco Retreat Koraput (1.5 km), Kalijai Temple in Puri (5.3 km) and Chilika in Puri (3.34 km).
These ropeway projects will be taken up by National Highways Logistic Management Limited (NHLML), subsidiary of National Highway Authority of India (NHAI) under Parvatmala scheme, sources said here on Tuesday.
The NHLML has been entrusted to take up ropeway projects, identified by the State Government in the hilly terrain, for urban decongestion, connecting inaccessible areas and to improve tourism and of religious importance in the State.
For this purpose Chief Engineer (DPI & Roads), Er. Tara Prasad Mishra has asked the Superintending Engineer of the R&B Divisions to identify other locations under their jurisdiction, where ropeway projects can be taken up.
After receiving reports from the Superintending Engineers, the Works Department will submit it to the Ministry of Road Transport and Highways. After that, work will be started for execution of the ropeway projects, the source informed.
The 'Parvat Mala' scheme was announced by Finance Minister Nirmala Sitharaman during the Union Budget 2022. The scheme is aimed at facilitating modern mode of transportation in the hills, and will give fillip to border villages in such areas, experts feel.
Under the scheme, ropeway connectivity will be provided in remote areas through the national ropeway development program. Eight ropeway projects across 60 km will be constructed in this financial year in hill states.
In April 2022, the Himachal Pradesh Government had signed a MoU with the National Highways Logistics Management Limited for the construction of ropeways in Himachal Pradesh under the ambitious Parvatmala Yojana. Seven ropeway projects of a total length 57.1 km at a total cost of Rs 3,232 crore will be constructed in the Himalayan State.