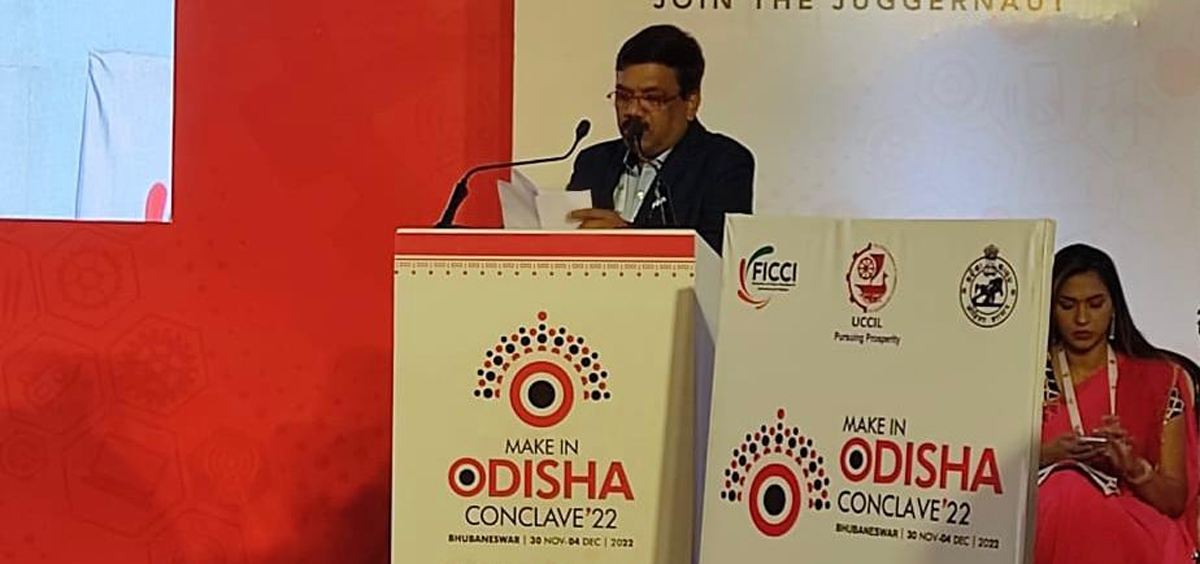 Bhubaneswar : The State Government will come up with a policy to facilitate a circular economy with the value addition to waste generated in the State.
This was informed by Director Environment and Member Secretary, State Pollution Control Board (SPCB), Dr. K. Murugesan during a session on Circular Economy at Make in Odisha (MIO) Conclave.
"Owing to Odisha's vast industrial and manufacturing landscape, our State has huge potential for utilization of waste as secondary raw materials through a Symbiotic association, leading to an ecosystem of Waste-to-Wealth," he said.
Dr. Murugesan said over 90 million tonnes of utilizable waste are produced by various industries (steel plants, coal-based power plants, fertilizer plants, etc.) in the State, which could be used by a range of industries like power generation, cement, fertilizer, construction materials, etc.
These wastes are generated across the State, giving enormous opportunities for investors. For example, while Sambalpur is the highest producer of industrial waste, Khordha is the largest producer of urban waste in Odisha, he said.
During a survey of investors, he said, most investors identified fly ash, gypsum, red mud, plastic waste, slag, etc. as waste having the maximum potential for utilization in the State.
Further, the Director Environment said 81% of respondents of the survey stated that their firm is aware of circular economy, while 65% of those who responded stated that their firms are interested in investing in circularity in Odisha, while 25% of respondents stated they have already invested in Circular Economy practices in the State.
Investors have been investing in capacity creation, technology procurement, innovation, etc. to facilitate their transition to circularity, he added.
Most investors feel that policies facilitating utilization of waste is important towards catalysing efforts on Circular Economy in Odisha, incentivizing MSMEs, easing transport of waste, etc. shall be useful in creation of the necessary policy ecosystem.
To create the necessary enabling policy environment for the Circular Economy, a five-year action plan will be developed by the Government to implement and achieve this strategic vision for the State, he pointed out.
Dr Murugesan further informed that a centralised platform anchored by the SPCB, will be developed, as an effective monitoring system.
The platform will record and provide data on waste generation by industries and ULBs, availability of secondary raw materials to the market, potential of industries to use secondary raw material, usage of policy instruments by industries (ex. MSME), etc., thus enabling the targeted industrial symbiosis in Odisha.
The platform would also act as a single source for all necessary information on Circular Economy in Odisha, he stated.
It is important that the transition to Circular Economy in Odisha is assisted by an anchor which could sustainably facilitate strengthening of the collaborative circularity efforts in the State.
Therefore, he said, a Centre of Excellence will be facilitated by the Forest, Environment and Climate Change Department, to act as an apex institution for knowledge collation and transfer, enable R&D for localised solutions, capacity building of stakeholders, assist in developing business models for MSMEs, handholding investors to participate in the circularity waste to wealth market, etc.
The PPCB Member Secretary stated that Odisha's commitment on facilitating the necessary enablers and drivers for transitioning from linear to a circular model of growth provides enormous opportunities for industries to expand their circularity footprint in Odisha and make the State a destination for circularity aligned investments.
He urged all stakeholders to provide necessary input to the SPCB on bringing out an adequate policy environment on Circular Economy in Odisha.