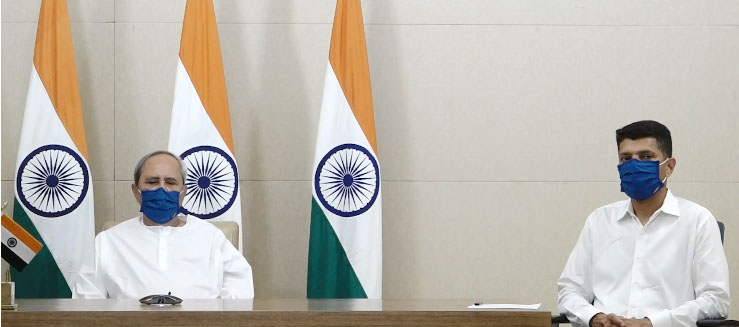 Bhubaneswar : Chief Minister Naveen Patnaik on Wednesday asked concerned officials to remain fully prepared to tackle any possible natural disaster like cyclone or flood during this monsoon season.
Despite Covid-19 situation, the State is able to manage natural disasters successfully, for which it has received appreciation at international level, he said while addressing the State-level Natural Disaster Management Committee meeting through virtual mode.
"Every life precious" and "Whole of Government Approach" is the policy of the Government in management of any disaster. Due to such an approach, the best possible measures can be taken and the impact of disasters can be reduced, said Mr.Patnaik.
The Chief Minister said Odisha is prone to multiple and recurring natural disasters like flood, drought and cyclones. Due to climate change, the intensity and occurrence of natural disasters have increased, he said, adding, the State had witnessed cyclones—Amphan and Yaas in the past one year.
Stating development of disaster resilient infrastructure requires huge amount of fund, the CM said in the meeting that the State has informed Centre about this.
Describing the period from June to October as crucial, the Chief Minister directed all the Departments and functionaries to ensure full preparedness to tackle any natural calamities including cyclone, flood, etc.
Preparedness should be made for early-alert systems, rescue and relief measures, drinking water supply, health and animal care, etc. ODRAF and Fire Service units must be vigilant to take immediate action, he said.
He directed to stock up on food and animal fodder in vulnerable and inaccessible areas. He also emphasized on the need to conduct livestock health check up camp during such disasters.
The Chief Minister further directed that the control rooms be kept open 24 hours in the districts and concerned Departments. In addition, he advised to pay special attention to pregnant women, differently abled and mentally challenged individuals along with children, widows and the elderly during the relief and rescue operations.
Focus should be given on rescue of people, first aid, relief arrangements, immediate repairs and restoration of infrastructure related to essential services and restoration of livelihoods, he stated. The Chief Minister further advised to provide timely assistance to the people affected by the disaster.
Stating community participation is the most important factor in disaster management; Mr.Patnaik advised the officials to ensure active participation of the community in all disaster-prone areas.
He informed that the State Government has decided to educate students about disaster management and provide required training to the Government officials and representatives. The society must always be prepared to deal with the natural calamities, he added.
Finance Minister Niranjan Pujari, in his welcome address, stated about the various steps taken by the State Government to deal with the disasters. Special Relief Commission (SRC) PK Jena offered a vote of thanks.
MP Chandrashekhar Sahu, MLA Narasingha Mishra, MLA Jayant Sarangi, MLA Pratap Keshari Deo, MLA Anant Das have shared their views on disaster management during the meeting.
Members of the Council of Ministers, MLAs, Chief Secretary SC Mahapatra and Secretaries & senior officials of different departments attended the meeting.