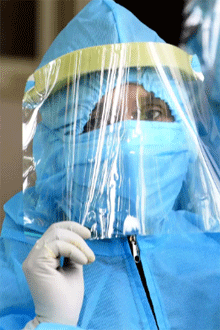 As the State Government attaches "Top Most Urgent" Tag for preparation of Health Care Workers (HCW) Database, 98 Percent of data about these workers have been made available, pointed out a senior official of the Department of Health & Family Welfare.
ACS Health & Family Welfare, Pradipta Kumar Mohapatra monitored the latest data available till 1 November and it came to fore that out of approximately 3,02,708 HCWs, data has been made available is 2,95,349, which makes 98 Percent.
While Odisha Government is expecting COVID-19 vaccine to be available soon as Government of India has indicated the State Administration in this regard with the anticipation, the Odisha Government has initiated preparedness to create Data Base of Health Care Workers in the state.
Detailed Report on HCW Data is now being monitored and preparation is done with all alacrity, said a senior official.
According to latest report, there are 3638 Health Care Facilities both in Government and Private Sector available in the State, out of which 3463 facilities have submitted their details, which comes as 94 Percent.
Out of the 30 Districts, Angul, Bargarh, Deogarh, Kendrapara, Gajapati, Ganjam, Koraput, Malkangiri, Mayurbhanj, Nabarangpur, Sonepur and Sundargarh have been able to submit cent percent data on Health Care facilities and Health Care workers.
While 17 Districts have sent all data on HCWs, 19 District have sent all data on Health Care facilities available in the Districts.
Accordingly Department of Health & Family Welfare has aksed the District authorities to provide all details immediately so that it will go ahead with foolproof database on both Facilities and HCWs.
Earlier, the Government of India communicated that COVID-19 vaccine will be available soon so preparation of data base of Health Care Workers both in the Government and Private are needed to be included.
COVID-19 Vaccination Beneficiary Management System (CVBMS) will be there are all details of the Health Care Workers will be uploaded in the same.
Accordingly, ACS Health & Family Welfare had directed Department of Women and Child Development & Mission Shakti to provide the individual details of all Anganwadi Workers, Anganwadi Helpers and Supervisors along with CDPOs.
All District ICDS Teams will be enrolling details of the above AWW AWW Helpers and Supervisors along with CDPOs in the data base in consultation with District and Block officials by 25 October, said Mr.Mohapatra, adding this is to be treated "Top Most Urgent".
Similarly, the State Government has also informed President Indian Medical Association(IMA) , Odisha State Branch, President AYUSH Associations, President Nursing Association Odisha Branch, All Paramedic Workers Associations, and President of Private Hospital Ownwers Association in Odisha in this regard.
In turn these associations will communicate to their members to contact District Collectors, Municipal Commissioners, CDM & PHOs and ADPHO (FW) for enrolling all Health Care Workers in data base by 29 October positively.