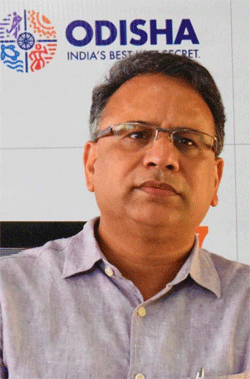 Bhubaneswar: State Government generated Rs.1.52 Lakh crore total revenue receipts during 2021-22 financial year of 2021-22, which is a record of sorts.
The State Government which was eyeing Rs.1.25 Lakh crore as total Revenue receipts during FY 2021-22, has surpassed all the targets it set in Budget Estimate (BE).
In the Budget Estimate, the State Government estimated receipt of Rs.1,25,600 crore, whereas on March 31, 2022, it has been able to receive a total amount of Rs.1,52,528 crore, said an official.
Principal Secretary Finance Vishal Dev reviewed State Government's Revenue collection for FY 2021-22 with the senior officials of the Department of Finance recently, during which it was revealed that the State has been able to generate more than 121 percent total revenue receipts as targeted for the last fiscal.
On its own tax revenue front, Odisha targeted collection of Rs.37,500 crore, whereas on March 31, 2022 it has been able to collect Rs.40,270.30 crore– more than 107 percent of the Budget Estimate.
In the non-tax revenue sector, Odisha generated a whopping Rs.53647.27 crore during FY 2021-22. The Budget Estimate was to collect Rs.20,000 crore on this front.
With this, the State Government has achieved more than 268 percent more, mainly from the mineral sector, which added a record margin.
So both its own tax and non-tax front Odisha has been able to generate much more than stipulated in the Budget Estimate for 2021-22, said a senior official.
While the target was to generate Rs.57,500 crore on both own tax and own non tax revenue, as on March 31, collection went up to Rs.93,917.57 Crore helping the State government in a big way.
Grants from the Centre are slowing down year after year and it is a major cause of concern for the State.
So far Central Transfer is concerned, Odisha was eyeing for Rs.68,100 Crore during FY 2021-22.
However, at the end of the fiscal, the State has been able to receive Rs.58,610 crore–nearly Rs.9,500 crore less.
While share tax from the Centre was targeted for Rs.30,136.68 crore, it received Rs.38,144.79 crore.
While in 2019-20, Odisha received Rs.24,152 crore, it came down to Rs.23,068 crore in 2020-21 and in 2021-22, it came down to Rs.20,465 crore.
Instead of an increasing trend in Central Grants, Odisha continues to get less grants from the Centre, officials said.
The month of March has been the best month for revenue receipts as the State generated Rs.24,272 crore as total Revenue Receipt during the month.
During this month the total central transfer was Rs.9818 crore while the tax and non-tax revenue collection crossed Rs.14,454 crore, said sources.