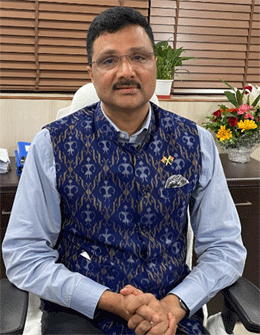 Bhubaneswar: In an aim to promote nutrition-rich millets, Dr.Arabinda Kumar Padhee, Principal Secretary Agriculture and Farmer's Empowerment has requested all Government Departments to include the millet-based snacks in the official meetings and conferences.  
For this purpose, Dr.Padhee has written a letter to the Additional Chief Secretary, Principal Secretary and Secretary of All the Departments.
Under the guidance of Chief Minister Naveen Patnaik, the Department of Agriculture & Farmers' Empowerment is implementing the flagship initiative, the Odisha Millets Mission (OMM) in 19 districts of the State.
Millets are small seeded cereals which are climate resilient and powerhouse of nutrition OMM aims to improve livelihoods of vulnerable rainfed farmers by reviving millets in farms and plates Odisha Millets Mission has been recognized nationally and globally as one of the best models for promotion of millet, he said.
The Government of India has also asked States to adopt the Odisha model for promotion of millets. Besides, 2023 has been declared as the International Year of Millets (IYOM) by the United Nations, he pointed out.
The Principal Secretary further stated that the Department of Agriculture & Farmers' Empowerment took several initiatives for celebration and revalorization of consumption of millets in the run up to IYOM 2023.
One of the key interventions under OMM is promotion of value addition enterprises through Women SHGs under Mission Shakti, he stated.
As part of the collaboration, he said, Millet Shakti outlets are being established in different parts of the State including one outlet in Krushi Bhavan anchored by Maa Shaktimayee WSHG, which has recently recognized as best WSHG millet value addition initiative by Indian Council of Agricultural Research (ICAR) and Government of India.
Stating his Department has already started serving millet based snacks in all meetings at Krushi Bhavan, Padhee requested the administrative head of different Departments to consider inclusion of nutrition-rich millet snacks in their official meetings.
The Departments can add millet-based products like cookies, mixture, sticks, khurma. nimki, sev, pitha, chatua. Etc, which are extremely tasty a found wide acceptance amongst the consumers
"It would also be a great economic opportunity for the Mission Shakti WSHGs, trained under OMM, to supply the millet-based snacks to various Departments. This will also help in spreading awareness on millets and provide livelihood support to a host of people in the value chain," he added.
In case of any queries, the Departments can contact the Odisha Millets Mission team, who would be very happy to provide necessary coordination and support.