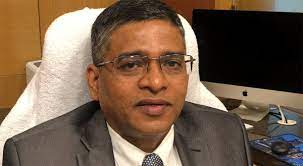 Bhubaneswar: With impending very severe cyclone 'YASS' likely to hit the Coastal Districts of Balasore and Bhadrakh, Odisha Government has deployed additional 29 Doctors and PG Doctors in both the districts.
ACS Health & Family Welfare, Pradipta Kumar Mohapatra has issued marching orders of deployment here on 24 May and directed the authorities to relieve the above additional number of Doctors with immediate effect to allow them to join at their new place of deployment.
Visualizing the situation, Department of Health & Family Welfare has directed CDM & PHO of both the districts to immediately assign these Medical Officers in the respective areas for smooth management of COVID-19 related work particularly during Cyclone YAAS.
With upcoming very severe cyclone YAAS, State Government has suspended COVID-19 Testing, Vaccination and Door To Door Survey in Balasore, Bhadrakh and Mayurbhanj districts.
Department of Health & FW has brought out a notification in this regard here on 24 May, officials say.
For the districts of Kendrapara, Jagatsinghpur and Keonjhar, the District Collectors have been directed to decide on suspension of these activities in the areas affected and likely to be affected by Cyclone 'YAAS'.
As the impending very severe cyclone 'YAAS' is likely to badly affected the electricity network, District Magistrates have been directed to organize Rapid Antigen Test (RAT) of manpower deployed for Post-Cyclone restoration of the electricity network.
Officials say that about 10,000 to 12,000 manpower have been mobilized by TPCODL and TPNODL for Post-Cyclone restoration of electricity distribution network.
So it is necessary to prevent COVID infection among the workmen so that restoration work goes on smoothly, pointed out a senior Health Official.
Accordingly District Collectors are to arrange RAT of the workmen deployed at restoration sites and labor camps on priority basis, directed ACS Health & FW.