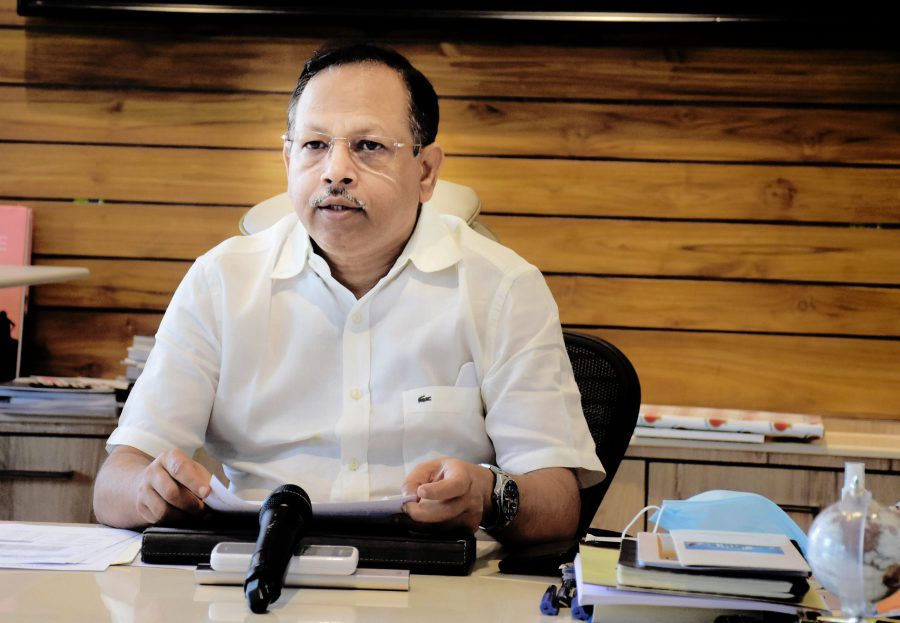 Bhubaneswar: With the IMD issues cyclone warning for Odisha and Andhra Pradesh coast, the State Government has geared up to tackle the cyclone to be named as Gulab.
According to latest bulletin of India Meteorological Department (IMD), a deep depression lies over northwest & adjoining west-central Bay of Bengal was moved westwards with a speed of 17 kmph in last 6 hours and lay centered at about 410 km east-southeast of Gopalpur (Odisha) & 480 km east-northeast of Kalingapatnam (Andhra Pradesh).
It is likely to intensify into a cyclonic storm within the next six hours. It is likely to move nearly westwards and cross north Andhra Pradesh – south Odisha coasts between Kalingapatnam & Gopalpur by evening of September 26, 2021, the IMD said.
Under its impact, heavy rainfall would occur in some places of Kendrapada, Jagatsinghpur, Puri, Khordha, Ganjam, Nayagarh, Kandhamal and Cuttack districts till tomorrow morning. The coastal and south Odisha districts are very likely to experience heavy to very heavy rainfall in next four days.
Squally wind speed reaching 75-85 kmph gusting to 95 kmph is likely along and off Odisha coasts from tomorrow afternoon, till midnight in Ganjam, Gajapati Districts), 55 -65 kmph gusting to 75 kmph along & off Khordha, Puri, Rayagada & Koraput districts, 50 -60 kmph gusting to 70 kmph over Nabarangpur & Malkangiri.
Squally wind speed reaching 40 -50 kmph gusting to 60 kmph likely to prevail along & off remaining parts of Odisha on September 26 and over northeast Bay of Bengal on today and tomorrow.
There may be damage to thatched huts, minor damage to power and communication lines due to breaking of branches and paddy crops, banana, papaya trees and orchards.
As sea conditions would be rough, fishermen are advised not to venture into sea, along & off Odisha, coasts northwest & adjoining west-central Bay of Bengal from September 25 to 27.
Soon after receiving the information, Special Relief Commissioner PK Jena swung into action and held a meeting with the Collectors of concerned Districts this morning and asked to take all precautionary measures for the cyclone. The SRC said he had asked the Collectors of these seven districts to remain alert and take measures to counter the cyclone.
He said 42 ODRAF teams, 24 NDRF teams and 102 Fire Service teams will be deployed in seven districts likely to be most affected by the cyclonic storm, predicted to make a landfall at Kalingapatnam in Andhra Pradesh tomorrow evening.
Mr.Jena said as per the forecast made by the IMD , the districts of Kandhamal, Ganjam, Rayagada, Malkangiri, Koraput, Nabarangpur and Gajapati districts in South Odisha will be most affected. In addition to these seven districts the relief and rescue teams would also be deployed in Nayagarh district.
The SRC said the IMD predicted the seven districts would experience less wind but heavy to very heavy rainfall tomorrow and day after tomorrow. He said due to heavy rainfall flash floods may occur in Rushikulya, Nagavali and Vamsadhara rivers and landslides in Gajapati and Rayagada districts and small trees may also be uprooted.
"During 2018 Cyclone Titli, we witnessed landslides in Gajapati district. We have directed officials in Gajapati and Rayagada districts to take appropriate steps to deal with landslide incidents. Directions have also been issued to take steps for proper evacuation in areas which are prone to landslides," said Mr.Jena.
As a precautionary measure the Gajapati district administration has cancelled the leave of all officers for two days and issued instructions not to leave the district headquarter.
Meanwhile, the National Crisis Management Committee under the chairmanship of Cabinet Secretary Rajiv Gauba today reviewed the preparedness of Central Ministries/agencies and State Governments to deal with the situation arising out of a cyclonic storm developing in the Bay of Bengal.