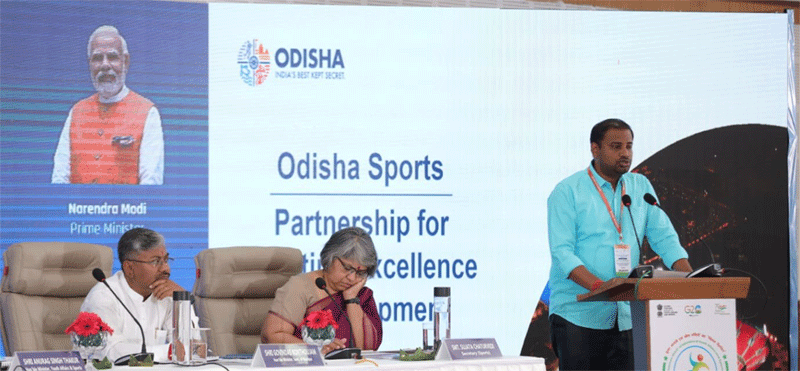 Bhubaneswar: Development of low-cost infrastructure at the district-level is imperative in order to promote sports culture, said Sports & Youth Services Minister Tusharkanti Behera here on Tuesday.  
Behera along with Sports & Youth Services Secretary R Vineel Krishna were part of the delegation from Odisha at the two-day conference – 'Chintan Shivir' of Ministers of Youth Affairs and Sports States/UTs organised by the Ministry of Youth Services and Sports in Imphal, Manipur and was chaired by Union Sports Minister Anurag Thakur here.
The Sports Minister highlighted Odisha's commitment to the overall development of the sports ecosystem in the state through its unique partnership model for sporting excellence that reflects in the High Performance Centres and partnership with National Sports Federations.
He emphasized on the unique partnership model initiated by Odisha which brings together like-minded corporate houses and eminent sportspersons/organizations to establish the High-Performance Centres (HPCs) partnership for sporting excellence and development while also highlighting the marque international and national events like FIH Odisha Hockey Men's World Cup (2018, 2023), FIFA U-17 Women's World Cup, SAFF U20 Championship, among various others that has made Odisha a hub of sports.
"It is great to see that our Union Sports Minister Anurag Thakur Ji is taking this step to bring everyone together for betterment of sports infrastructure in our country and the need to work cohesively to make India a sports superpower. This conference will help shape a framework for all the State Governments and stakeholders in mapping a trajectory for growth and development of sports in our country," he said.
The Kalinga Stadium Sports complex has evolved to become a hub of High-Performance Centres (HPC). It houses HPCs including Odisha Naval Tata Hockey HPC, Abhinav Bindra Target Performance Centre, Odisha JSW Swimming HPC, Odisha Aditya Birla Gagan Narang Shooting HPC, Reliance Foundation Odisha Athletics HPC, Odisha Weightlifting HPC and a center of Excellence in Sports Management Program, pointed out the Minister.
He further said that the Odisha Dalmia Bharat Pullela Gopichand Badminton HPC will also be ready in the coming time.
"While world class infrastructure is important to bring international events to India, it is also vitally essential to develop low-cost infrastructure at the district-level. This will particularly enable us to build a strong sports culture among the youth," expressed Behera highlighting the 22 Hockey Training Centres across the State.
Noteworthy, Odisha has built the world's largest seated Hockey stadium, Birsa Munda Hockey Stadium in Rourkela with a seating capacity of over 20,000 people. It has also developed FIFA standard football stadiums (Kalinga Stadium, Capital Football Arena and Odisha Football Academy), which are being used for hosting national and international tournaments and as a training ground for football teams including Odisha FC.
Similar sports infrastructure has been developed at the state level and district level to give an early exposure to young athletes.
A comprehensive presentation was also made by Sports Secretary Vineel Krishna who led the group comprising Odisha, Tamil Nadu, Rajasthan, Nagaland, Manipur, West Bengal, and Meghalaya that discussed action points on sports infrastructure and coach development.
He projected the State's vision for sports with special emphasis on sports science, grassroots development, coaches' education program and low-cost infrastructure at block and district levels.
Union Minister of Youth Affairs and Sports, Anurag Singh Thakur also emphasized that the States should come forward to promote games and sports in India through sharing ideas and strategies for developing the sector. Thakur particularly appreciated Odisha's sports model of partnership and its vision for sports.
More than 100 invitees from various states, Union Territories and the Ministry of Youth Affairs attended the conference and put forward their views and ideas on making India into one of the biggest sporting powers in the world.