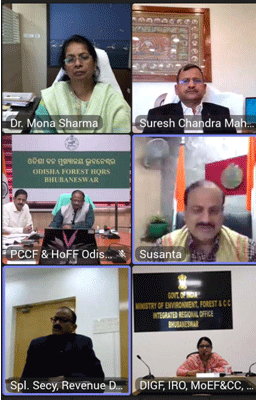 Bhubaneswar: State Level Steering Committee of State CAMPA(Compensatory Afforestation Fund Management & Planning Authority) held under the chairmanship of Chief Secretary, Suresh Chandra Mahapatra virtually today approved the outlay for Annual Plan of Operation for 2023-24.
Additional Chief Secretary, Forest, Environment & Climate Change, Mona Sharma PCCF & HoFF, Debidutta Biswal, PCCF (Nodal & FCA) Susanta Nanda, along with senior officers from concerned departments were present in the meeting.
During the discussion, Chief Secretary said that wildlife management activities extensively being carried out through CAMPA funds are to be closely monitored. The afforestation programmes are also to be monitored using CAMPA tracker and through satellite in every six months and to be verified in the field though frequent inspection by senior officers. A joint meeting with concerned Department is to be conducted to prepare a five year action plan to upgrade forest road to Grade-1 metalling and the material intensive components such as culverts and causeway need to be covered under CAMPA funding. 
He further stressed on relocation of villages from Tiger Reserve Sanctuary. VHF networking needs to be improved in all division ensuring all days monitoring. Engagement of forest labour under MGNREGS for 100 days work for which a definite pool will be created at the Gram Panchayat levels, he added. He also directed the concern officials to prepare a comprehensive plan to avoid Human-Animal conflict. He further stressed that Chandaka Wild Life Division needs to identify all the revenue forest patches in order to develop elephant corridor.
The Chief Executive Officer, State Authority, CAMPA, Pradeep Raj Karat presented the details of the activities proposed under CAMPA Annual Plan of Operations (APO) 2023-24 with financial outlay of Rs.1085.94 Crore. After detailed discussion, the committee went through all the activities proposed in the APO with financial outlay of Rs.1085.94 Crore and approved the same for submission to Govt. of India for their consideration.
The APO mainly focuses on taking up of plantations and other activities like maintenance of old Plantations, Forest protection, Fire protection, Simultaneous Silvicultural Operations for Bamboo forests, Soil and Moisture Conservation activities in forest lands, Wildlife management, relocation of villages from protected areas, Forest infrastructure development, Training and research, Capacity building, Forest IT & GIS, raising of 18 month old seedling, Publicity and awareness, Monitoring and Evaluation. DGPS survey of all forest areas in the state is one of the major activities among these.