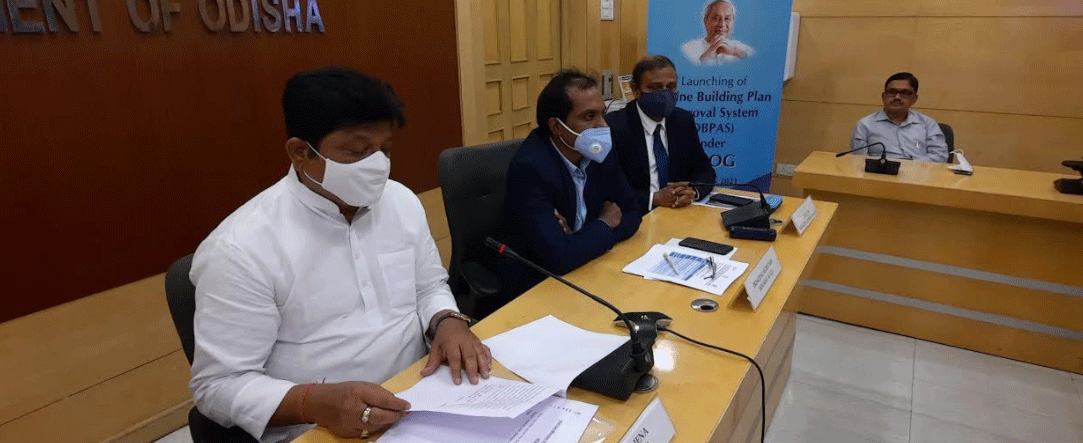 Bhubaneswar: Yet another transformative initiative under the 5T initiative, the Online Building Plan Approval System (OBPAS) under Sustainable Urban Service in a Jiffy by Odisha Government (SUJOG) was launched today by Pratap Jena, Minister, Housing & Urban Development.
This transformative e-Gov initiative is intended to provide the most advanced ICT enabled services to the citizens of Urban Odisha.
Online Building Plan Approval System (OBPAS) has been identified as one of the key reforms' agenda under 5T to fast track approval of Online Building Plan Applications and to ensure Ease of Doing Business.
The OBPAS is an end to end online system for the entire Building Plan Approval Processes including; Automated Building Plan Drawing Scrutiny , Auto Calculation and payment of Fee , Streamlined Building Permit Application process ,Plinth/Roof Verification and Occupancy Certificate .
Speaking on the occasion Minister Mr.Jena told that the OBPAS caters to requirements of Citizens, Architects, and technical persons while providing a software-based verification of building plans and details, for compliance with the various rules as defined in ODA Act, 1982. The system facilitates online approvals of building permit and Occupancy certificate applications along with automated fee calculations and online payments with an user-friendly interface. It is the vision of our Hon'ble Chief Minister, Naveen Patnaik to use Technology for enhancement of governance and service delivery to achieve higher citizen satisfaction
The system envisages a seamless integrated workflow between various Government Departments. Thus, facilitating ease of using the building approval processes with minimum human intervention. The system is a highly flexible and sustainable solution that is future proof with regards to technology and policy changes. OBPAS aims to improve the efficiency of the delivery mechanism and to offer to the citizens a unique experience of availing urban services through modern state-of-the-art technologies , Minister Mr.Jena added.
Principal Secretary G Mathivathanan in his welcome address informed that with this formal launching of OBPAS under "SUJOG", Government of Odisha has bolstered its commitment towards revitalizing the public administration to make it entirely citizen centric. As a sequel to this, Housing and Urban Development Department will be migrating all its urban services to SUJOG Platform very soon.
Among others Principal Secretary Industries Hemant Sharma , Collector Cuttack , Commissioner CMC Cuttack , Joint Secretary Sushant Mishra, Deputy Secretary Sarada Prasad Panda and other concerned Officers were present during launching ceremony.