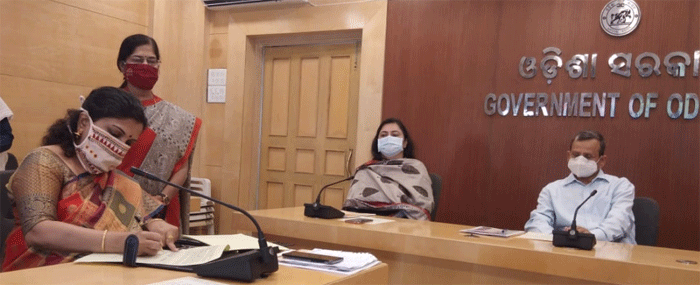 Bhubaneswar : Suresh Chandra Mohapatra, Development Commissioner has appreciated  launching of several New Initiatives by the State Government in Department of Scheduled Tribes and Scheduled Caste Development, Minorities and Backward Classes Welfare(SSD).
Development Commissioner Mr.Mohapatra chaired the launching ceremony of the various new initiatives by SSD for ensuring Quality Education to ST/SC students studying in SSD residential schools was held on 17 December in Lok Seva Bhawan.
Principal Secretary ST SC Development, Ranjan Chopra and other senior officers were present on the occasion.
While Mr.Mohapatra graced the occasion and all Project Administrators of Integrated Tribal Development Agency(ITDA) and district Welfare Officer (DWO)s participated in the launching ceremony which was conducted in a virtual mode.
Mr.Mohapatra also released special issue ADIVASI a research journal of Scheduled Castes and Scheduled Tribes Research & Training Institute (SCSTRTI).
The Journal has carried several  interesting articles including  an article titled "Impact of Pandemics on Tribal Culture of Odisha with special reference to COVID-19".
This was followed by the release of Department's quarterly News Letter "The Voice" developed for showcasing the best governance practices and also to provide an opportunity to those inhabiting at the bottom to be heard.
In addition to the above a MoU with People for Action (PFA)was signed to collaborate with the Department in bridging the learning gaps in Odia, English, Mathematics and Science through accelerated Learning enhancement program and 
Teachers Professional Development through capacity building programs.
Further, to provide innovative 360 degree Digital Learning Solution for all std 10 students studying in SSD Schools in Odisha through digital solutions such as Video Lessons, Online Practice Assessments and Unit Tests etc a MOU with Aveti Learning was signed.
Finally a MOU with PFEL to support and identify key interventions for strengthening District and Block units of SSD Department, improve quality education and living standards in SSD schools and hostels and for designing and running a Government own Fellowship Program was also signed.

Ranjana Chopra, Principal Secretary, ST & SC Development Department and Guha Poonam Tapas Kumar, Director, Tribal Affairs, Prof. (Dr.) Akhila Bihari Ota, Director, SCSTRTI were present in the event.