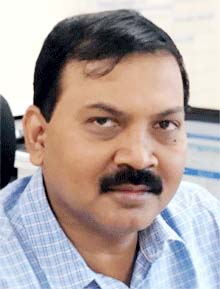 Bhubaneswar: With IMD predicts heavy rain in the state for next four days, Special Relief Commissioner (SRC) and Additional Chief Secretary (ACS) Satyabrata Sahu on Saturday alerted all the district collectors and municipal corporations to take all precautionary measures for the heavy rainfall.
There is a possibility of flash floods and flood-like situations in the state due to the heavy rains, ACS Shri Sahu said and asked the Collectors and Municipal Corporation Administrations to take all precautionary measures.
According to IMD prediction, a cyclonic circulation lies over the Northwest Bay of Bengal and adjoining north Odisha-Gangetic West Bengal coasts and extends up to 5.8 km above mean sea level tilting southward with height.
It is likely to move west-northwestward across north Odisha and adjoining Gangetic West Bengal & Jharkhand during the next 2-3 days.
"On the effect of heavy rainfall, flash flood-like situations/water logging may arise in low lying areas. Keeping in mind you are requested to take immediate action," the SRC Shri Sahu said.  
He has asked the Collectors to alert the field-level functionaries in strategic locations of flash flooding and water logging and they should not leave the headquarters.
In urban areas, in case of heavy rain, the people of low lying areas can be shifted to safer locations temporarily, he suggested.
The Urban Local Bodies have been directed to keep drain/stormwater channels de-congested and deploy adequate dewatering pumps as per need.
The Collectors were asked to regulate traffic movement and ensure supervision of weak/vulnerable points in river/canal embankments.
Drainage clearance must be ensured for free flow of flood water, SRC directed.
The IMD said a cyclonic circulation lies over north coastal Andhra Pradesh and a cyclonic circulation is likely to be formed over the Northwest Bay of Bengal around July 16.
Under its impact, heavy precipitation is likely to occur from July 15 to 19 and may cause flash floods and water logging in certain areas. Another fresh cyclonic circulation is likely to form over the Northwest Bay of Bengal around July 18, and as a result, wet spells of monsoon rainfall activity are likely to continue over Odisha with isolated heavy to very heavy rainfall.
Met sources said light to moderate rain or thundershowers were very likely to occur at most places in the districts of Odisha and issued a heavy rainfall warning for the next five days.
It said temporary water logging is likely in low-lying areas, and there will be the possibility of the collapse of vulnerable Kutcha houses during an intense spell of rain.
Due to heavy rain in twin cities of Bhubaneswar and Cuttack, water logging problems were faced in many areas of the two cities on Saturday.
Due to the rain, water logging is reported in Nayapalli, Old Town, several areas of Cuttack City, Jharapada, and low-lying areas of Bhubaneswar. The Dadhinauti of Rameshwar temple on the premises of the Mausima Mandir in Old Town Bhubaneswar was damaged by lightning.
The incident occurred while puja was going on in the temple, and several Sevayats and devotees were present. The officials of the Archaeological Survey of India visited the spot. An official said the ASI team would examine the temple after the rain stopped to assess the damage.